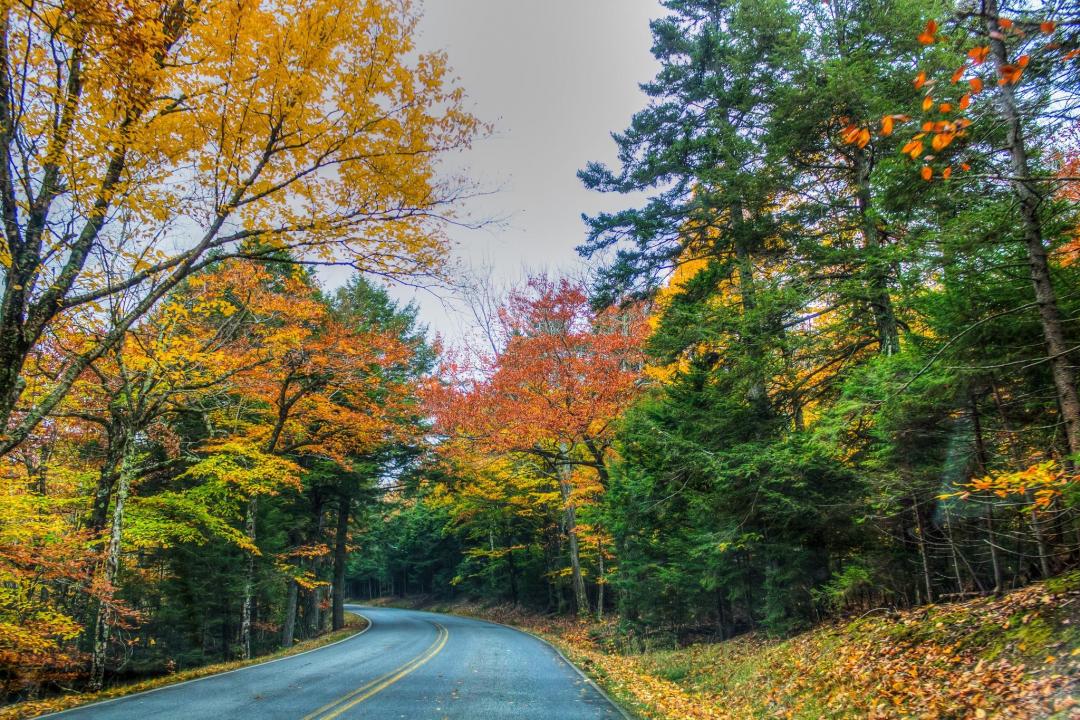 David Seibold / Flickr Commons
The top small towns for taking in the fall foliage
The feeling of change that permeates the air during the fall affects everyone in different ways. It can inspire a desire to spend more time outside, admiring the nature that we often take for granted – and what better time than in autumn?
Using an aggregate of visitor reviews and expert analysis from U.S News & World Report, Travel + Leisure and Country Living, Stacker found the top small towns and villages you should visit to take in prime leaf-peeping this fall.
For each town, we include the Census' 2015 estimated population as well as top foliage hotspots and local histories worth exploring.
Erik (HASH) Hersman // Flickr Commons
#50. Camden, ME
Est. Population: 4,844
This small town on Maine's Penobscot Bay offers a kaleidoscope of colors come autumn, with a spectrum of green to scarlet birches, chestnuts and elms. Enjoy the changing of the seasons via boat or from atop Mount Battie in Camden Hills State Park.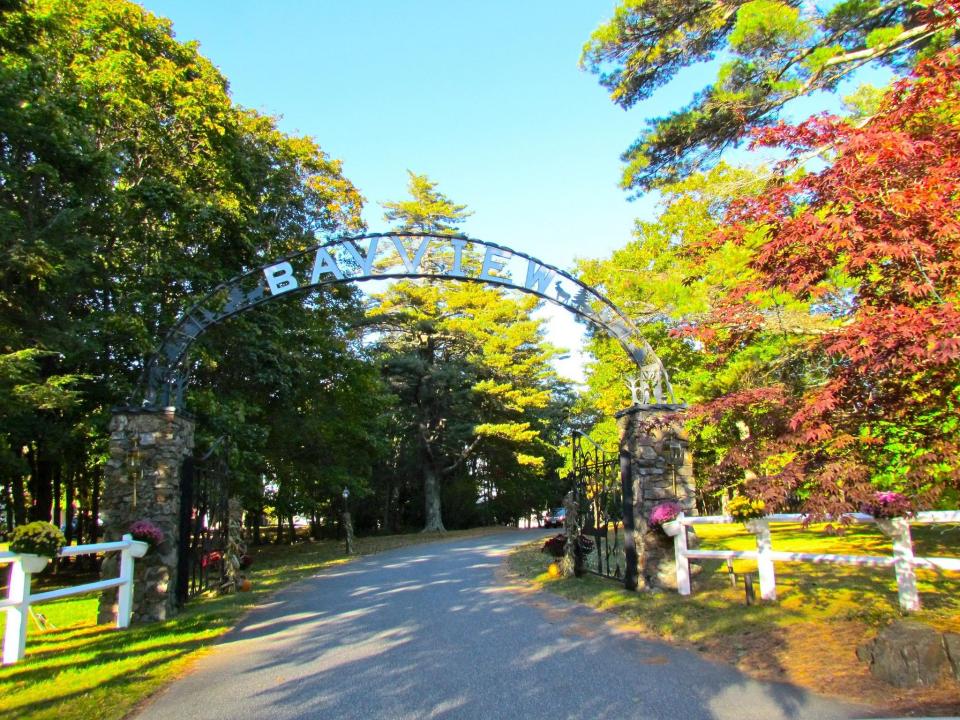 Jeff Gunn // Flickr Commons
#49. Bar Harbor, ME
Est. Population: 5,296
For the best bird's-eye view of the changing landscape, drive to the top of Cadillac Mountain. Otherwise, explore the rest of Mount Desert Island (the largest island off the coast of Maine where Bar Harbor sits) as well as Acadia National Park for some of Maine's most stunning multi-color leaves.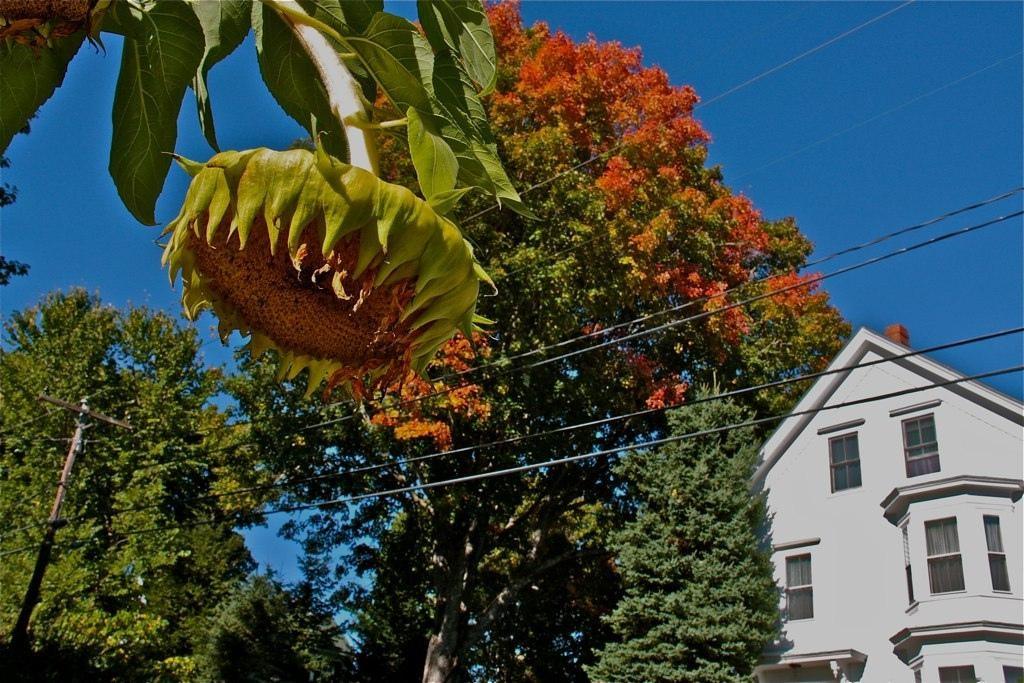 smilla4 // Flickr Commons
RELATED: Stunning Fall Drives in Every State
#48. Blue Hill, ME
Est. Population: 2,676
Blue Hill is a little seaside village whose shining fall foliage is best explored by hiking. Cadillac Mountain in Acadia National Park offers especially breathtaking vistas.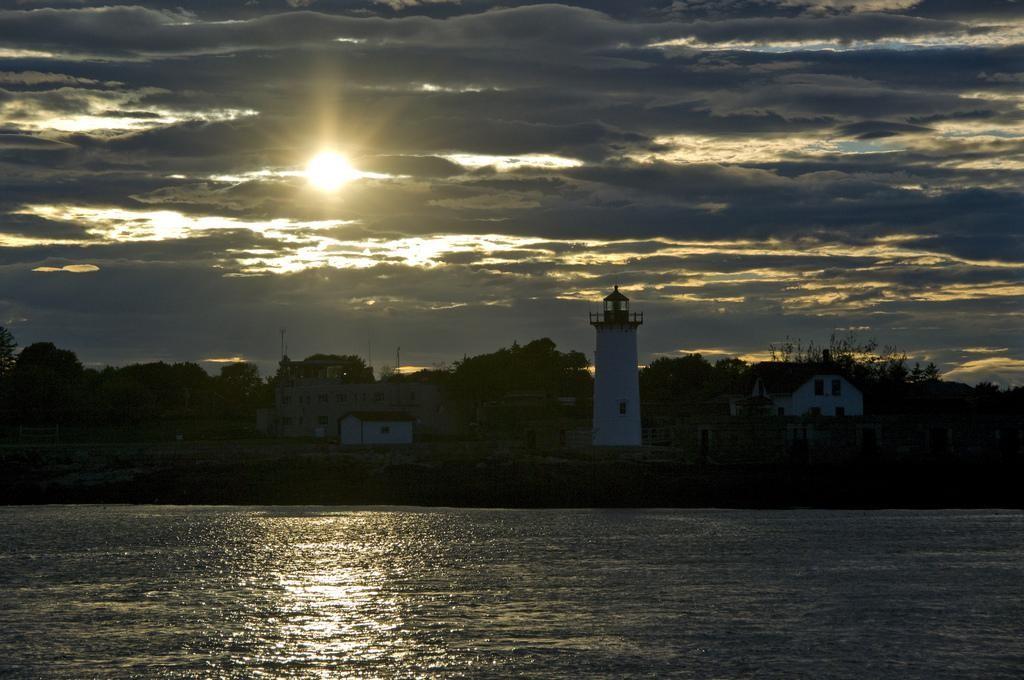 Selbe Lynn // Flickr Commons
#47. Portsmouth, NH
Est. Population: 21,426
A treat for American history and nature lovers alike, Portsmouth offers the 10-acre Strawbery Banke Museum that allows visitors to explore the history and beauty of the waterfront's 1600s-era homes. Visitors are also welcome to take an inland river cruise to get a view of the leaves as well.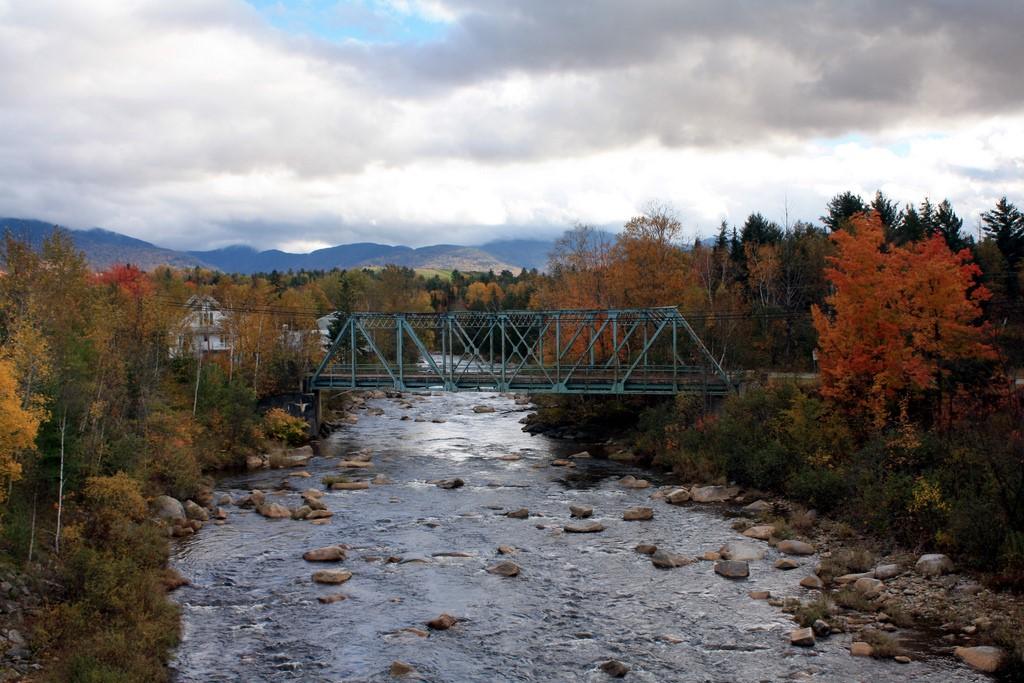 cmh2315fl // Flickr Commons
#46. Bethlehem, NH
Est. Population: 2,551
The White Mountains are a haven for those who love to adventure outside. After driving along the Kancamagus Highway to catch the views of the verdant and reddish surrounding forests, those leaf-peepers wanting to get in the literal thick of it can hike or camp in the White Mountain National Forest.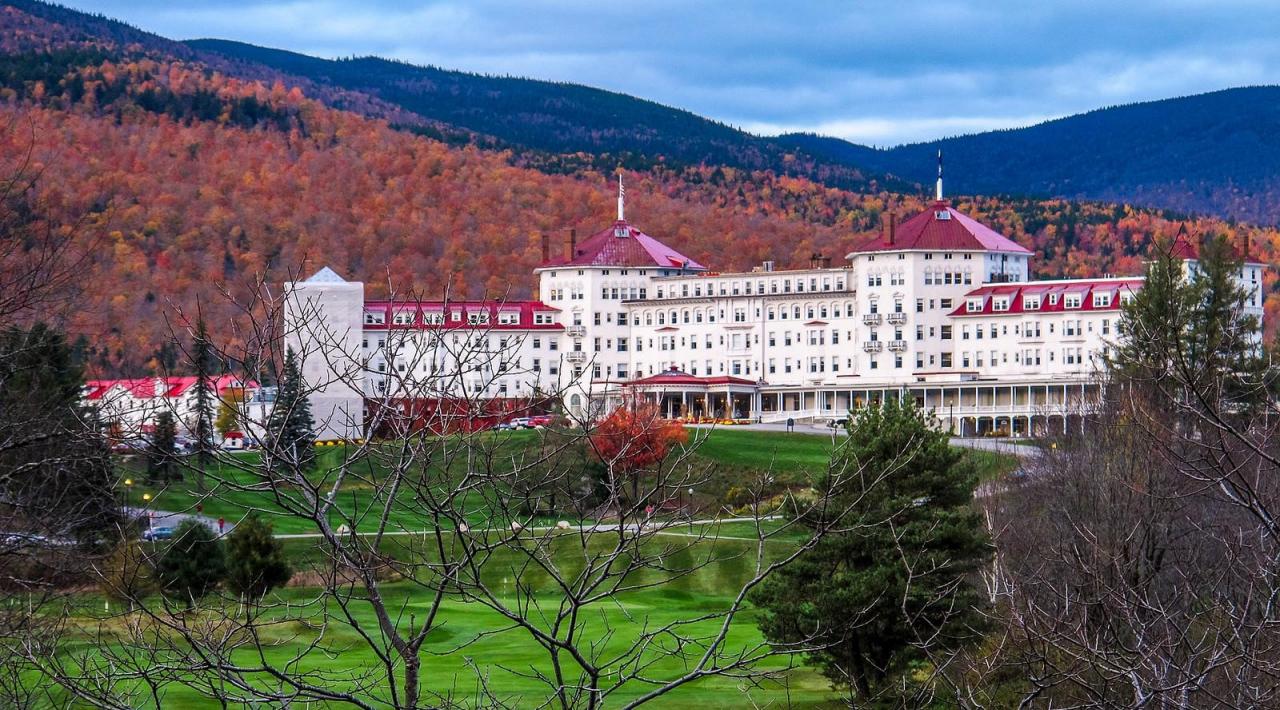 Neil Hunt // Flickr Commons
#45. Carroll, NH
Est. Population: 946
In Carroll, the breathtaking mountain scenery is likely best viewed by doing something other than driving or biking. Explore the famous Bretton Woods area by train on the cog railway, or partake in a three-hour zipline canopy tour over the White Mountains.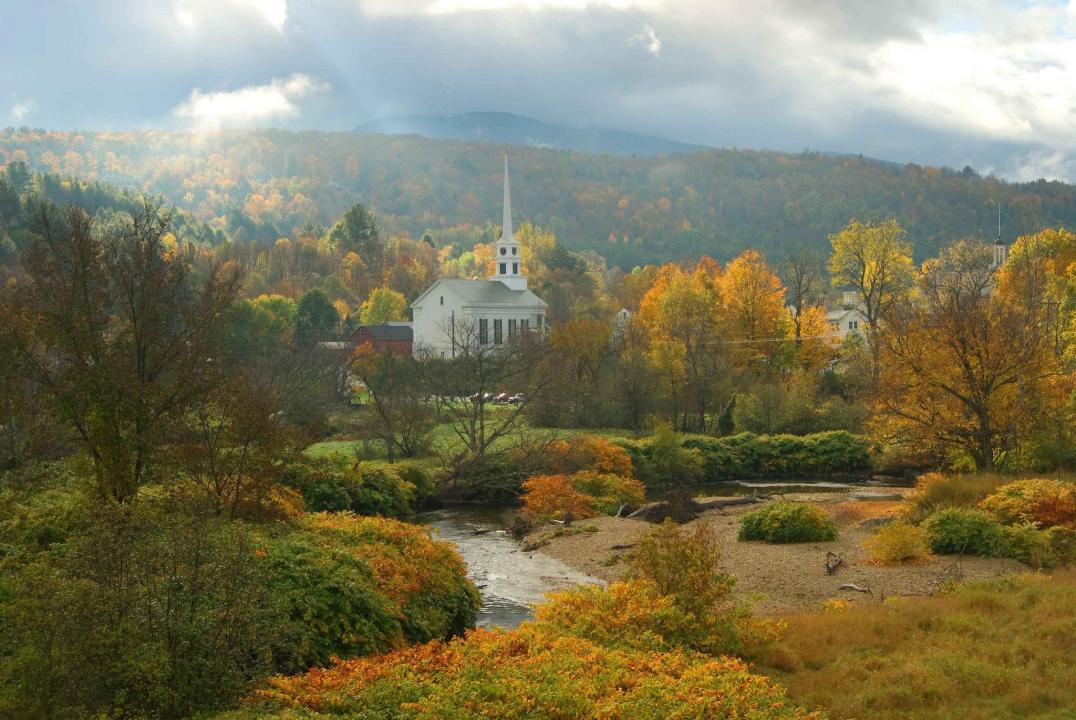 Ryan Taylor // Flickr Commons
#44. Stowe, VT
Est. Population: 4,407
Each fall season, leaf-peepers flock to this ski resort town, which is almost more beautiful without snow. Mountains beam with the redness of sugar maples and gold hues from poplar, elm, and hickory trees. You can catch this technicolor landscape as you take a scenic drive through Stowe Hollow (and stop for a tour at the Ben & Jerry's Factory, of course).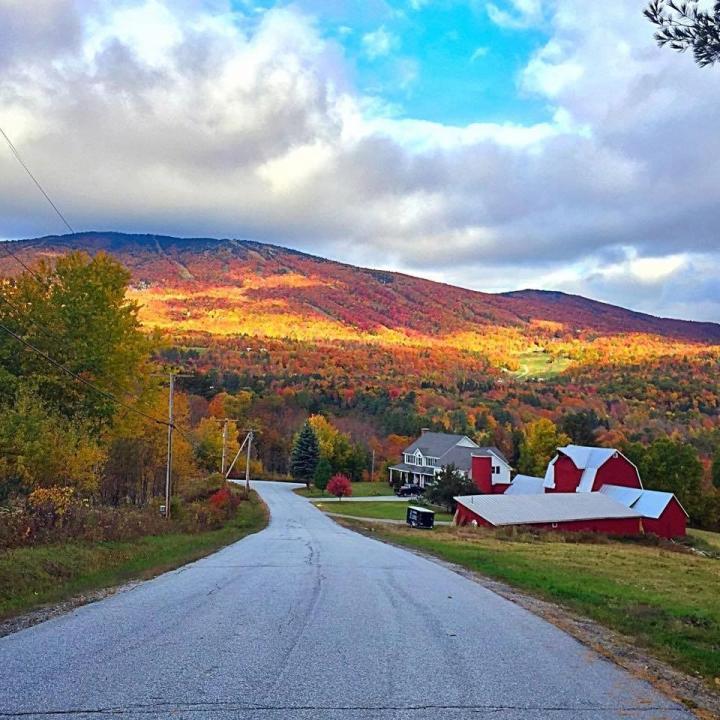 Christina Maria Graves // Vermont Facebook
#43. Ludlow, VT
Est. Population: 2,140
Another ski resort town, Ludlow offers awe-inspiring colors in the fall, which are best viewed from the top of the 3,344-foot Okemo Mountain. The views also include Vermont's Green Mountains to the west.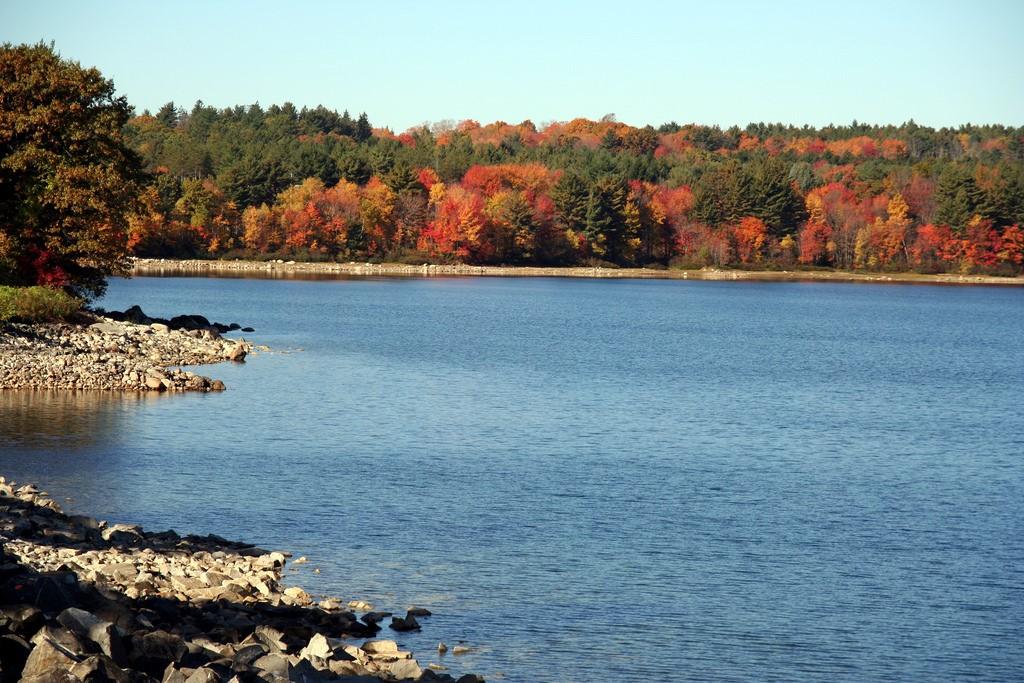 D.R.Davis // Flickr Commons
#42. Petersham, MA
Est. Population: 1,161
Just north of Boston, Petersham is a marvel of natural beauty, featuring crimson hardwood trees and a view of the surrounding calm waters of the Quabbin Reservoir. Must-see stops include Harvard Forest, Swift River Reservation, and North Common Meadow.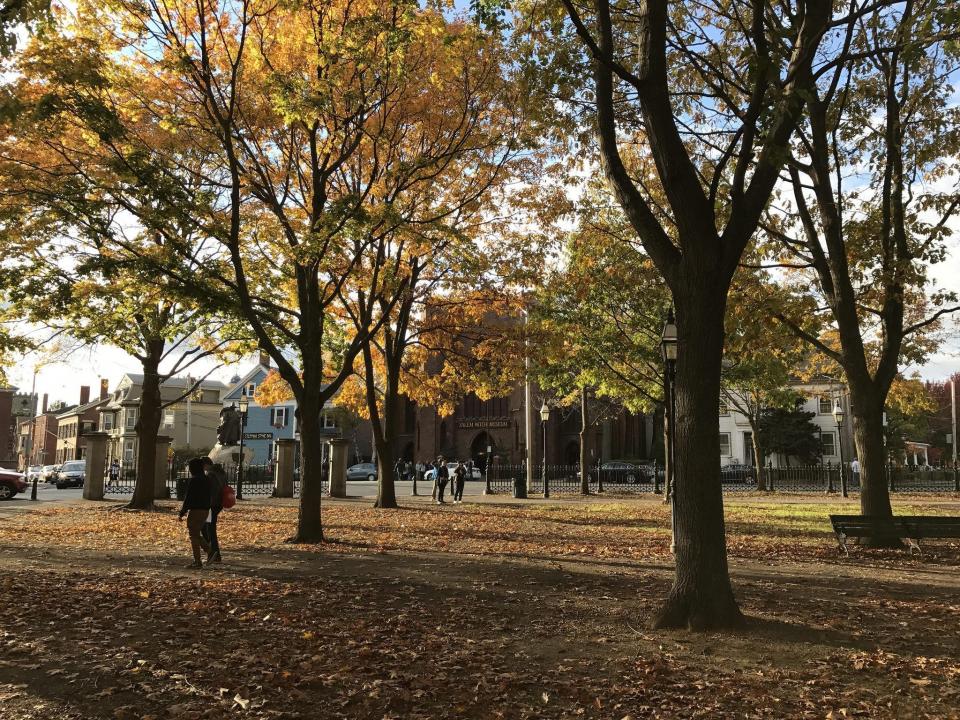 massmatt // Flickr Commons
#41. Salem, MA
Est. Population: 41,340
The easily frightened may be hesitant to visit the town with a haunted past, but be assured that the Salem offers more than "Haunted Happenings" throughout October. Russet and golden leaves make Salem Common and Salem Willows the perfect places to take walks, highlighting the beauty that is often an overlooked aspect of the historic town.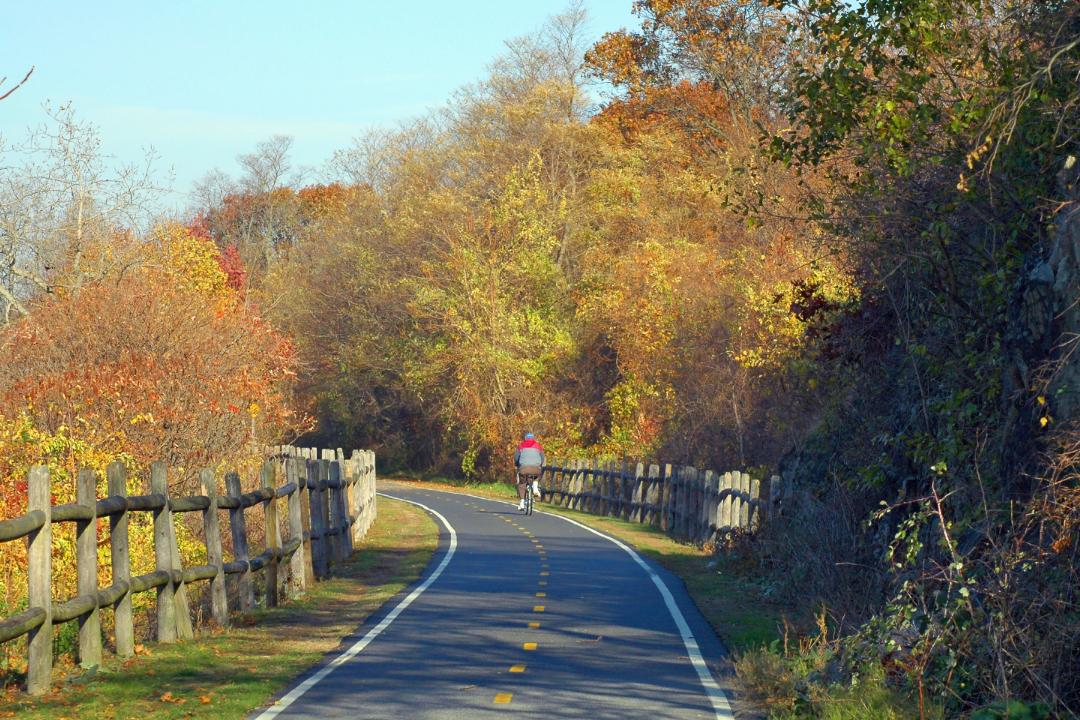 Dan Logan // Shutterstock
#40. Bristol, RI
Est. Population: 49,176
Rhode Island may be small, but its autumnal scenery is larger than life. A lovely natural backdrop for its classic colonial architecture, this nautical town's fall foliage is a must-see for leaf peepers. The East Bay Bike Path offers awe-inspiring views for the more active adventurers, while the nearby Blithewold Gardens and Colt State Park can put you right in the thick of the changing nature.
FromSandToGlass // Flickr Commons
#39. Tiverton, RI
Est. Population: 15,818
For those who are familiar with Tiverton, it's a town whose name is most often synonymous with summer. But fall is one of the best times to explore this area, especially when traffic is light and the images of orange and scarlet leaves are reflected in the Sakonnet River. Take a walk through the nature trails in Wetamoo Woods, the Pardon Gray Preserve and Emilie Ruecker Wildlife Refuge for a serene experience.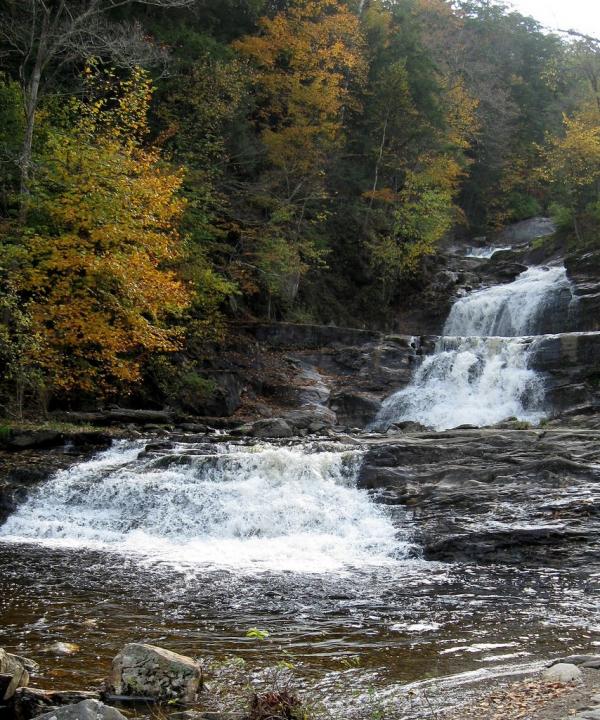 John // Flickr Commons
#38. Kent, CT
Est. Population: 2,917
Fall in Kent is such a special time to locals that every year the Connecticut Antique Machinery Association (CAMA) holds the Kent Fall Festival, where vendors show off their goods and the town can officially welcome the patchwork quilt of reds and oranges that put Kent on the map. Wander across the famous covered bridge or hike along the trails in Kent Falls State Park to properly take it all in.
LMarino // Flickr Commons
#37. Washington, CT
Est. Population: 3,517
Getting the most out of Connecticut's technicolor fall foliage is made easier by following the 100-mile loop through the Litchfield Hills or the 46-mile loop from New Milford to Mount Tom State Park. Maples, birches and dogwoods look like they were hand painted, and historic covered bridges add that quaint New England feel that the area is known for.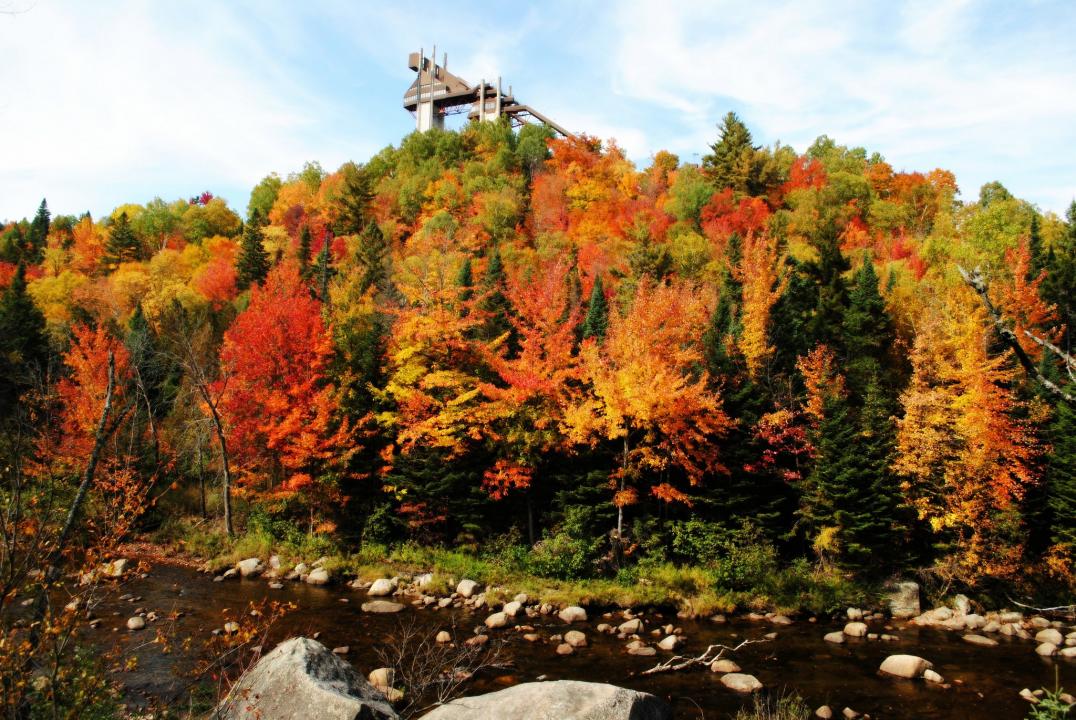 diane cordell // Flickr Commons
#36. Lake Placid, NY
Est. Population: 2,539
As you make your way through New York's Olympic Trail Scenic Byway, be sure to stop and admire beautiful Lake Placid, a picturesque oasis flanked by red maples, aspen, birch, oak trees and many more. And if you're timing's just right, you can enjoy the breaktaking scenery while you sip at the annual Lake Placid Brewfest, which has crowned itself "the premier brewfest in the Adirondack Mountains."
Andy Arthur // Flickr Commons
#35. Saranac Lake, NY
Est. Population: 5,727
Self-proclaimed as "The Adirondacks' coolest place," the village of Saranac Lake is filled with friendly people, quirky shops and is awash with color in autumn. The deep blue of the lake reflects the warm, bright colors of the leaves, which you can also spot driving on Route 86 or hiking up St. Regis Mountain (one of the Saranac Lake "6ers" – six mountains surrounding the lake).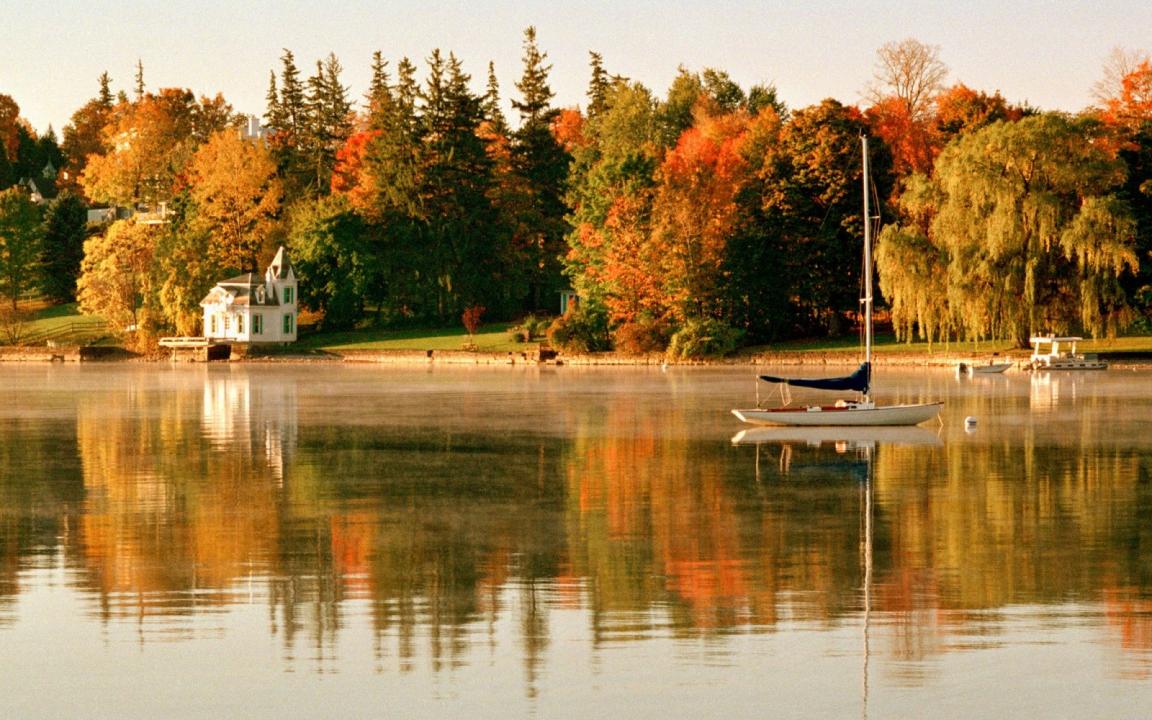 John Francis McCarthy // Travel + Leisure
#34. Skaneateles, NY
Est. Population: 7,235
At this stop, you can take in the picturesque beauty of fall foliage of Skaneateles in one of two ways: drive along the lake all the way to Ripley Hill Nature Preserve, or enjoy the view from a boat tour on one of the New York Finger Lakes.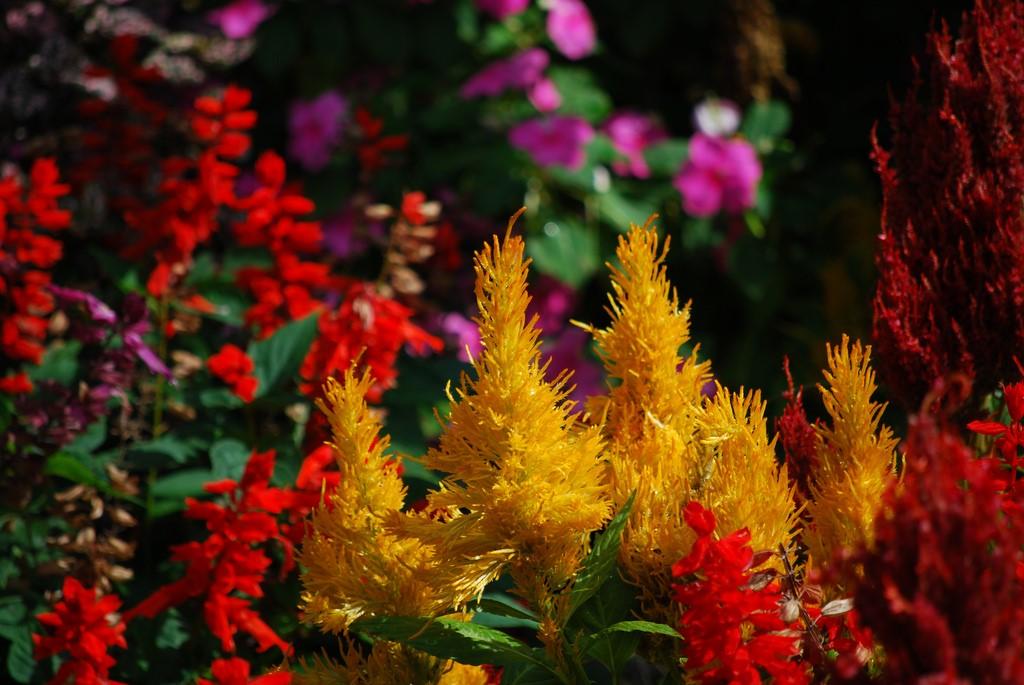 Alberto_VO5 // Flickr Commons
#33. Cape May, NJ
Est. Population: 3,553
A lovely bird's-eye view of the town's golden, tree-lined streets can be seen from Cape May Lighthouse, as well as a view of the Atlantic, Delaware Bay and Cape May State Park.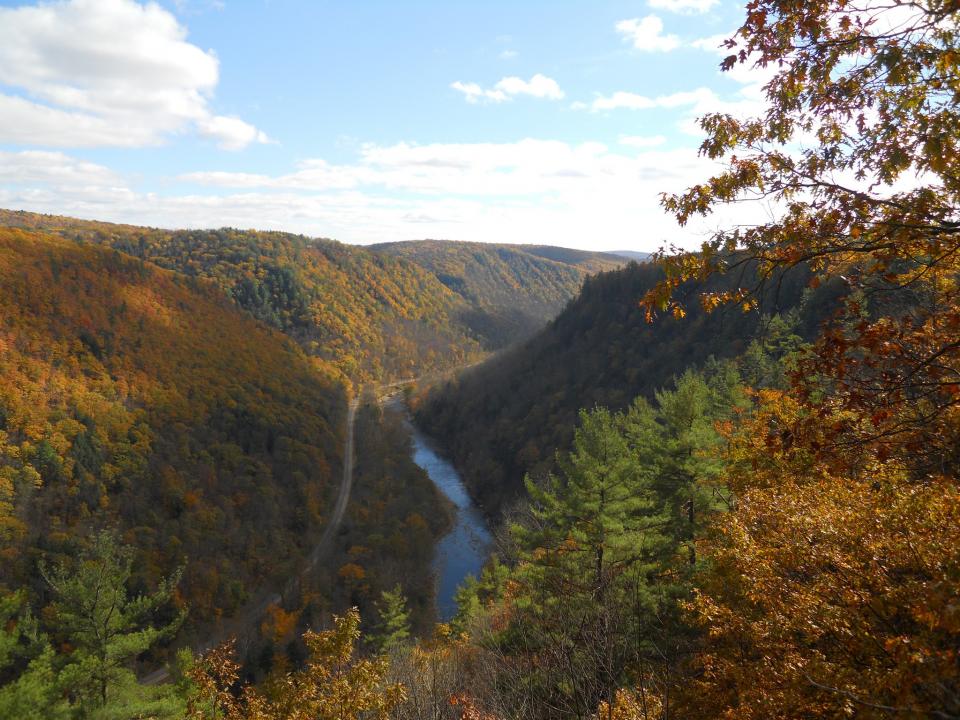 Joe Coyle // Flickr Commons
#32. Wellsboro, PA
Est. Population: 3,313
Located in what's known as the Pennsylvania Grand Canyon or Pine Creek Gorge, a 6 million-year-old wonder, Wellsboro is a charming little borough surrounded by incredible natural beauty — especially in the fall. On the east rim, Leonard Harrison State Park offers a great view over the 1,400 ridge. On the west side, Colton State Park is the spot to gawk.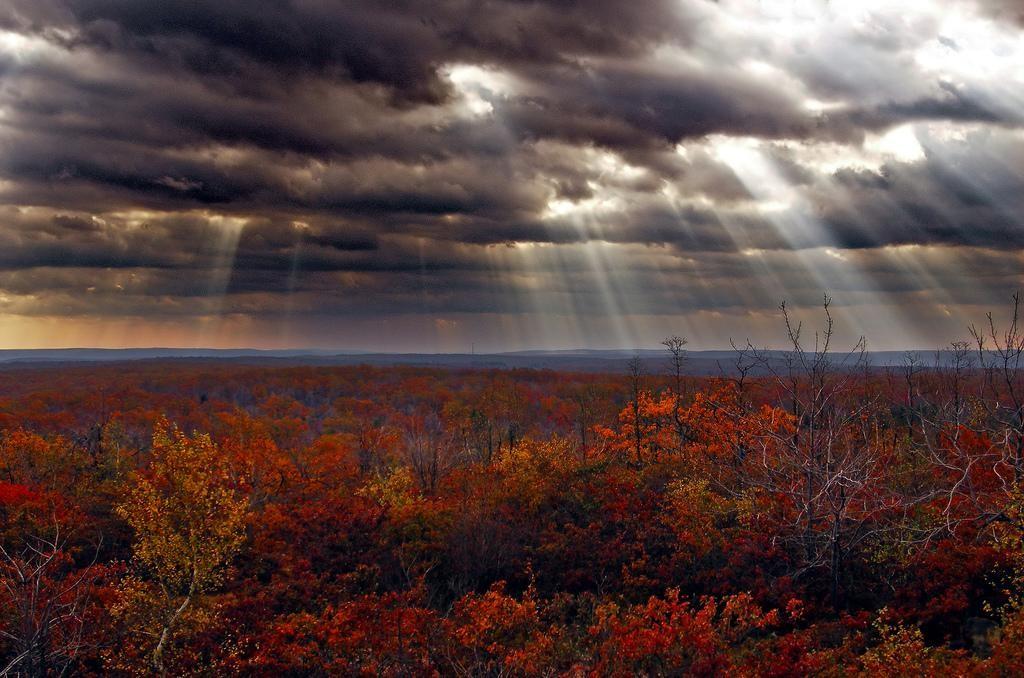 Nicholas A. Tonelli // Flickr Commons
#31. Milford, PA
Est. Population: 2,031
Though the little town in the Pocono Mountains isn't the ritzy summer resort town it once was, its natural beauty surely hasn't faded over time. Autumn is the best time to catch the changing leaves of over 100 tree species and other flora in the area.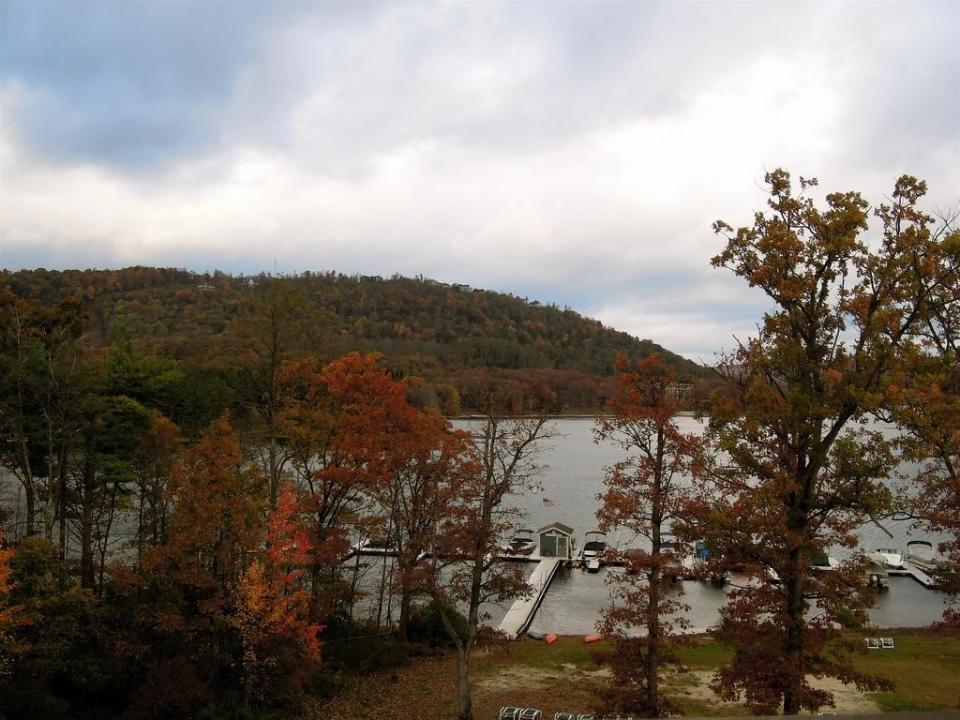 Meaghan O'Malley // Flickr Commons
#30. Oakland, MD
Est. Population: 2,102
This little Maryland town celebrates the changing of the seasons during its annual Autumn Glory Festival, which has music and parades. The real autumn glory, however, can be found just north of Oakland at Swallow State Park — a lush forested area with a kaleidoscope of colors, with the Youghiogheny River flowing throughout. Unique to this park are the eastern hemlock and white pine, which, at more than 360 years old, are the oldest of their species.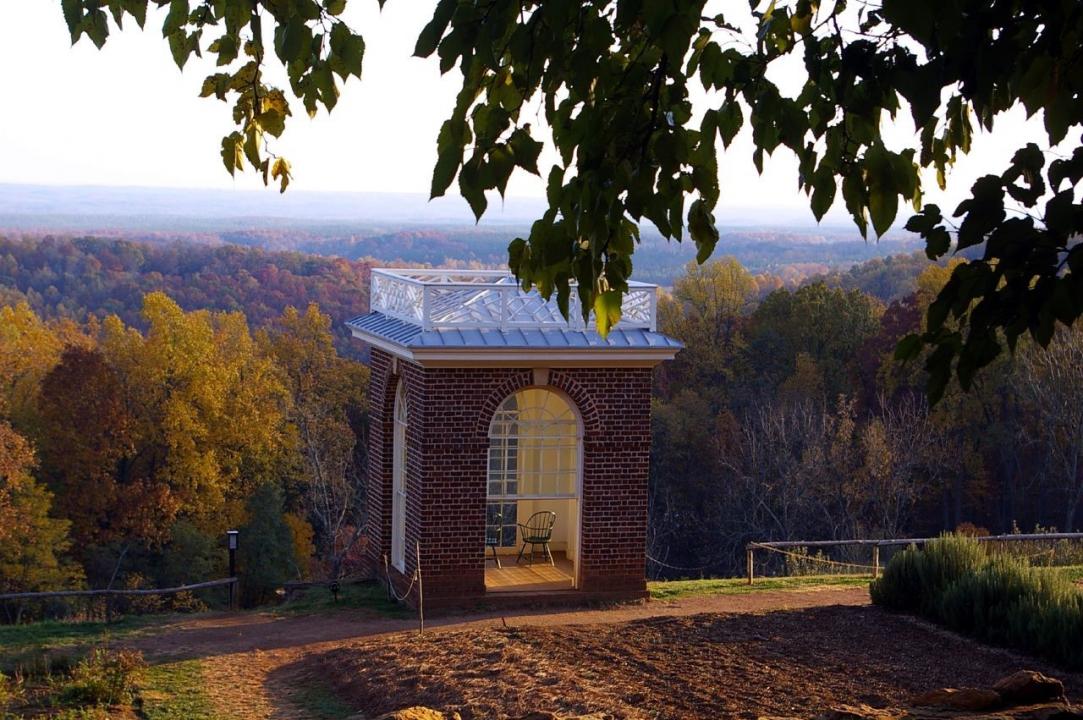 L. Allen Brewer // Flickr Commons
#29. Charlottesville, VA
Est. Population: 45,084
A bit of history, as well as lovely foliage, await in Charlottesville. Worth note is a visit to Monticello, the UNESCO world heritage site and famed home of Thomas Jefferson, which, perched on top of a mountain, offers a wide and breathtaking view of the surrounding area.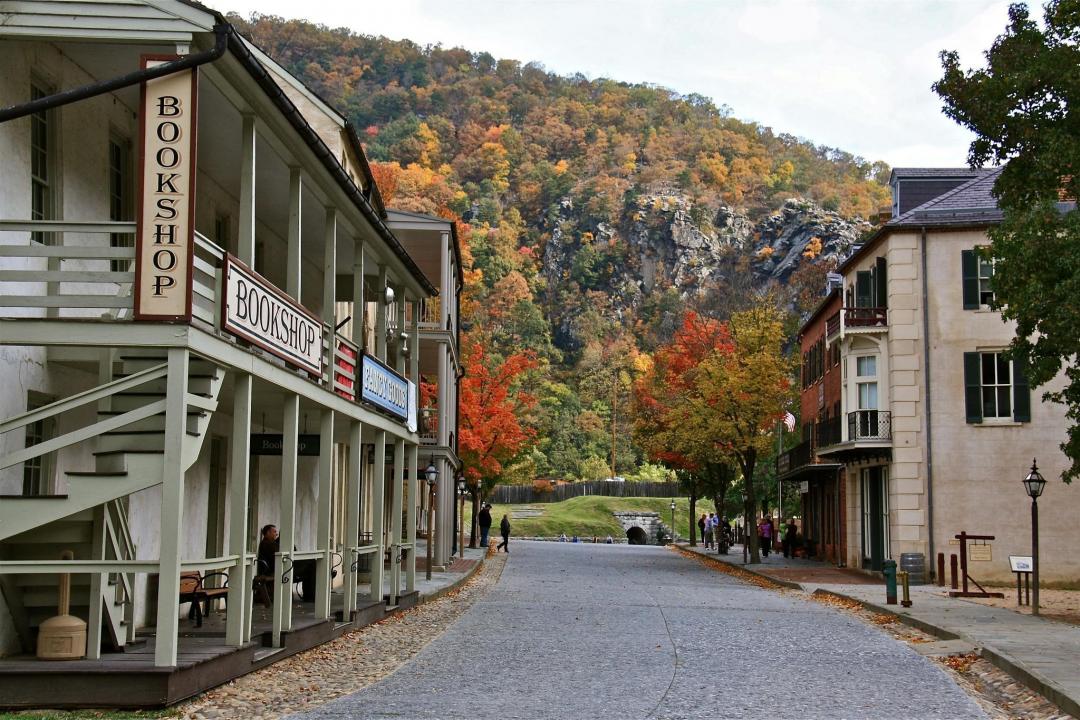 smilla4 // Flickr Commons
#28. Harpers Ferry, WV
Est. Population: 200
This mountain town just an hour northwest of D.C. offers a little something for both outdoorsy types and history buffs — bursting hues of green, yellow and orange in Harpers Ferry National Historical Park, as well as historic Civil War battlefields and memorials.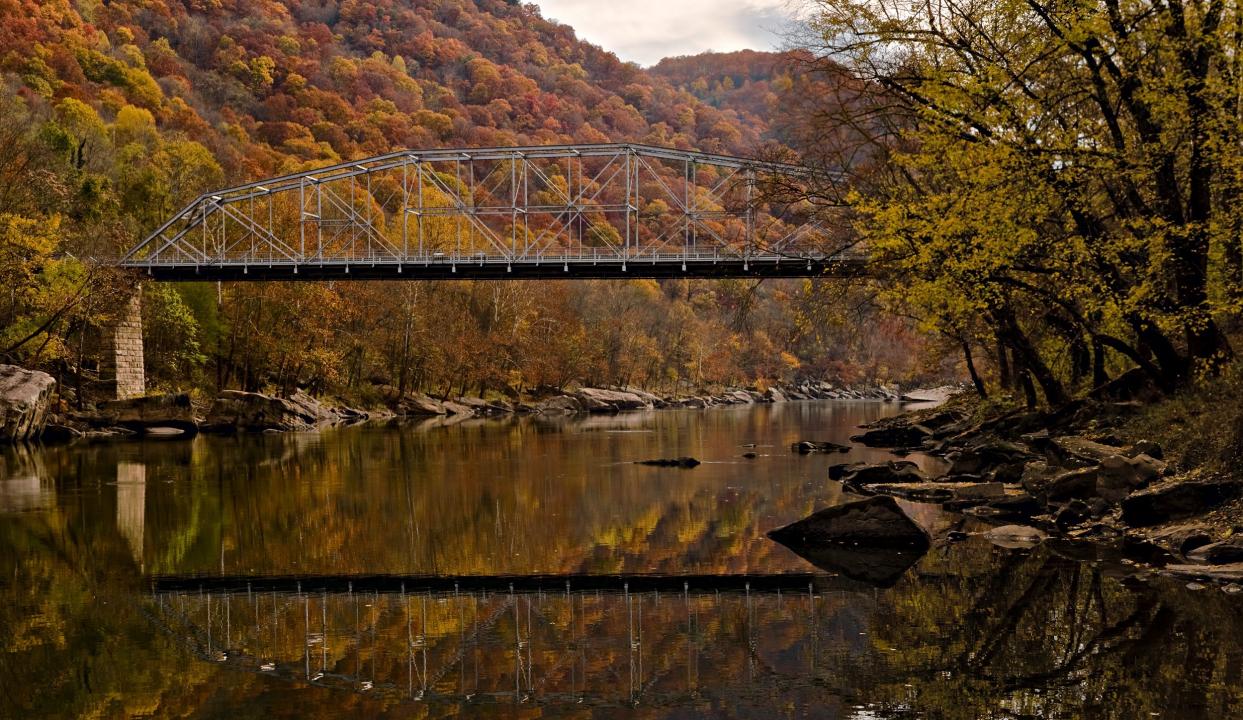 Wikimedia Commons
#27. Fayetteville, WV
Est. Population: 2,914
Also in the Mountain State is Fayetteville, a town that is awash with vibrant colors and offers a myriad of ways to admire its beauty. When the leaves are changing and the temperatures cool, you can hike, camp, bike, raft, and more in Fayetteville's cozy mountain setting.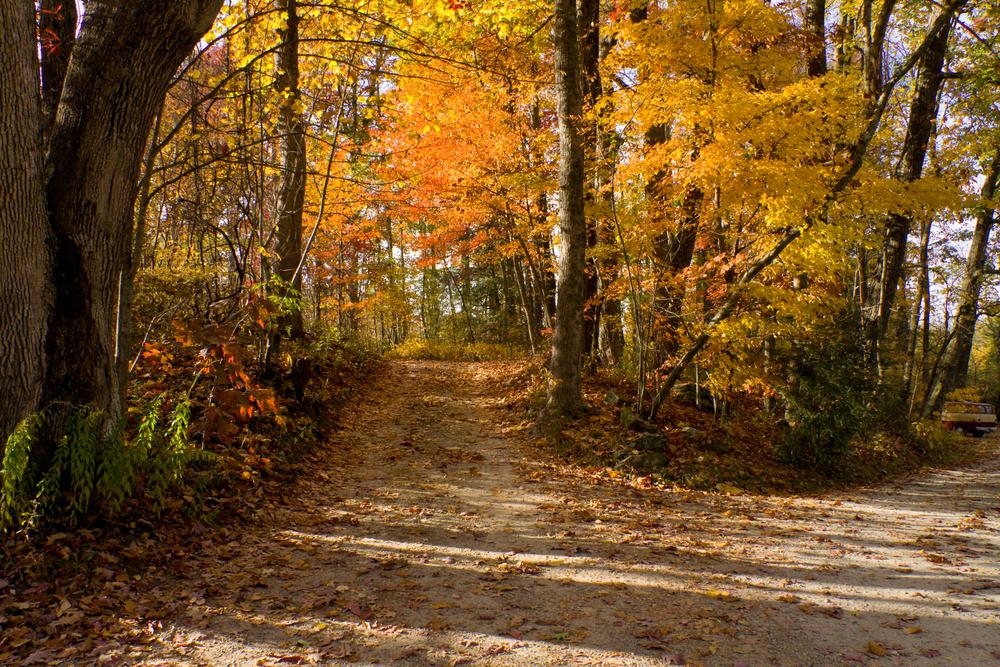 Shutterstock
#26. Asheville, NC
Est. Population: 86,789
While certainly the most populous location on our list, Asheville sneaks onto our ranking with a truly remarkable leaf peeping culture. According to the Asheville Tourism Office, the uniquely high elevation of Asheville's North Carolina Mountains makes its foliage season the longest in the entire country. And with over 100 species of trees, the spectrum of colors is undoubtedly special.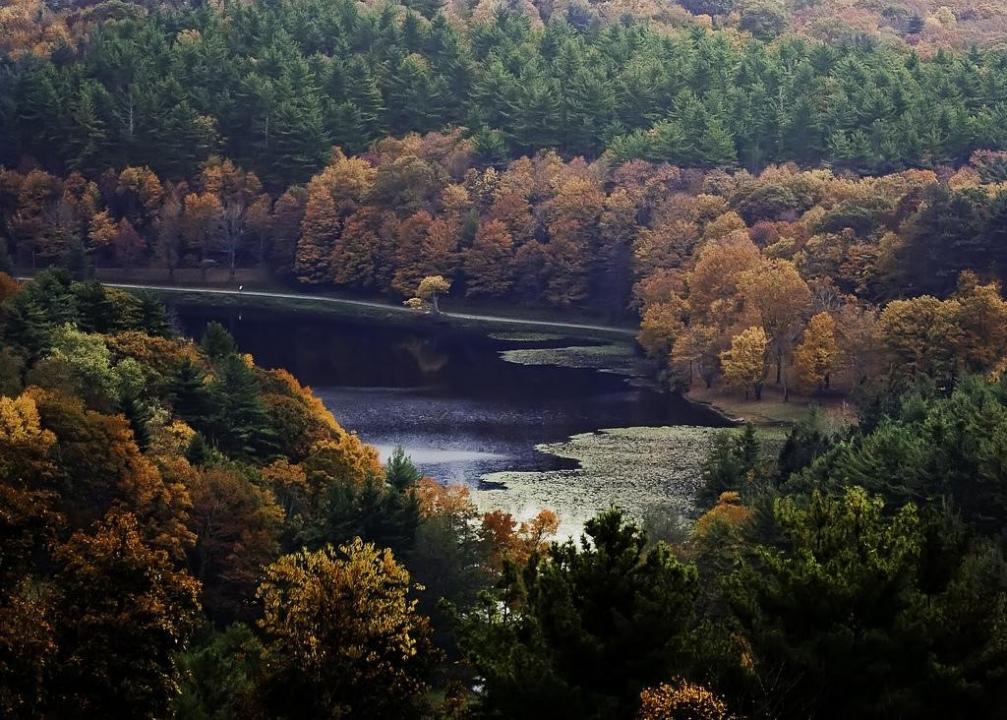 John McTarnaghan // Flickr Commons
#25. Blowing Rock, NC
Est. Population: 1,206
An underrated mountain town off the Blue Ridge Parkway, Blowing Rock is named after a millennia-old rock formation that rises 4,000 feet over the Johns River Gorge. For an unparalleled view of nearby Grandfather Mountain, drive along to Linn Cove Viaduct, or simply relax in Moses Cone Memorial Park.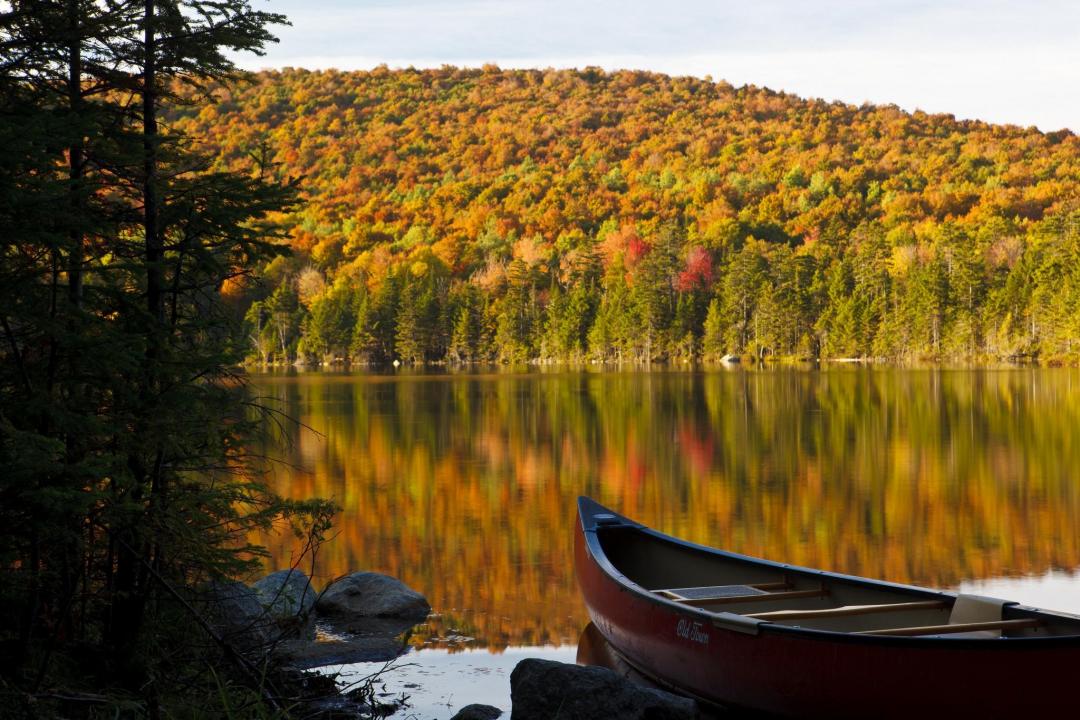 U.S. Department of Agriculture // Flickr Commons
#24. Ellijay, GA
Est. Population: 1,952
Ellijay proves that there's more to Georgia than peaches. This little-known "apple capital" is a hotspot for classic autumn activities such as apple picking and hunting for the perfect pumpkin. It's also a forested area that is prime for watching the leaves change, and offers easy access to the Chattahoochee-Oconee National Forest and the Appalachian Trail.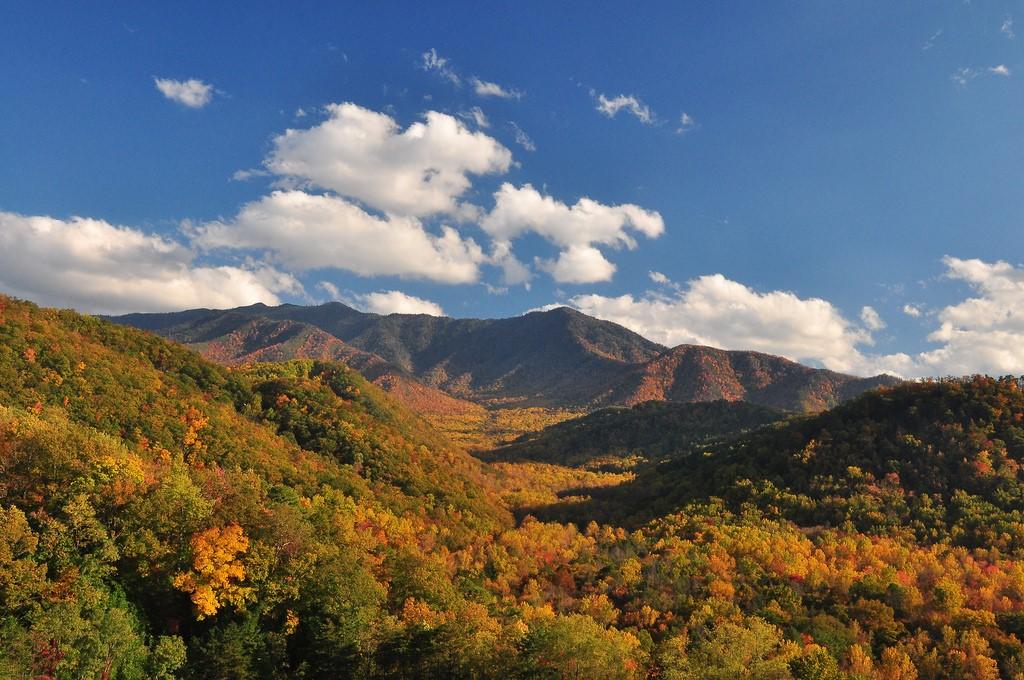 Jeff Sents // Flickr Commons
#23. Gatlinburg, TN
Est. Population: 4,099
Tennessee is often hailed for its barbecue and rich music scene, but many overlook its other treasure: the Smoky Mountains. The fall colors that paint the Smokies' 100-or-so species of native trees every fall should be a definitive stop on anyone's list.
Tommy John // Flickr Commons
#22. Franklin, TN
Est. Population: 68,549
If your October leaf-peeping plans are packed, fear not: Franklin is probably best enjoyed in the start of November. Besides hosting a district that's on the National Register of Historic Places, the town's reddish-gold poplars, hickory, and maple trees offer a bevy of eye candy.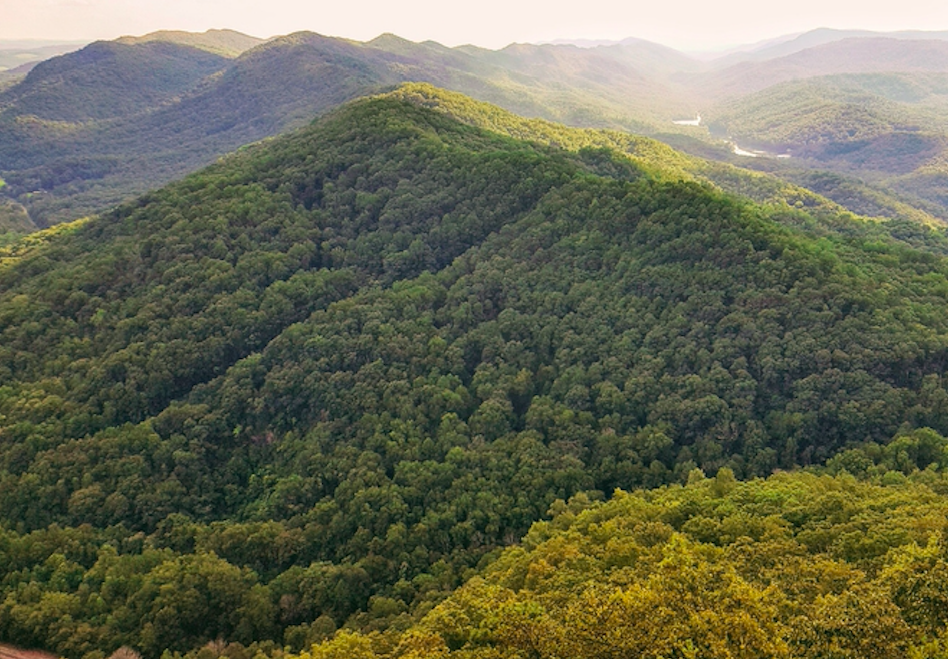 Steven J Hensley // Shutterstock
#21. Middlesboro, KY
Est. Population: 9,934
This little town is lucky enough to sit right in arm's reach of Cumberland Gap National Historical Park and Great Smoky Mountains National Park, where you can gawk at the Bluegrass State's trove of bright birch, sugar maple, and beech trees, to name a few. You may even be able to catch site of an elk enjoying the lush grasses.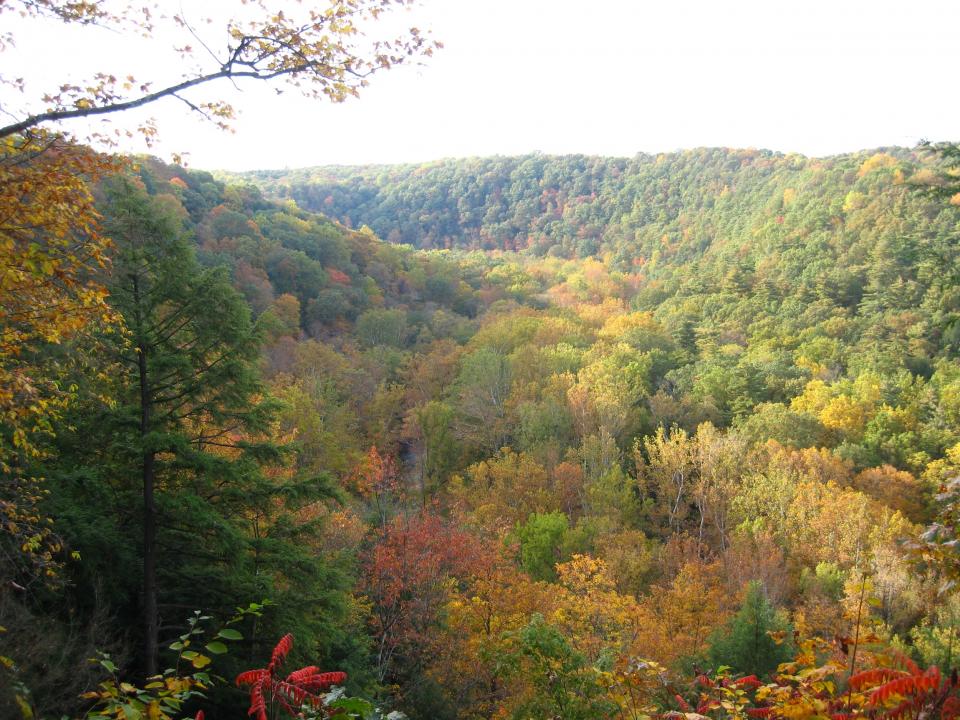 Steve Grant // Flickr Commons
#20. Loudonville, OH
Est. Population: 2,749
Exploring Loudonville offers access to over a thousand acres of beauty at the Mohican-Memorial State Forest. Known as the 'canoe capital of Ohio' for its extensive river networks, Loudonville offers visitors views of warm yellows and crimsons of the oaks, maples, and buckeyes throughout the Mohican Valley.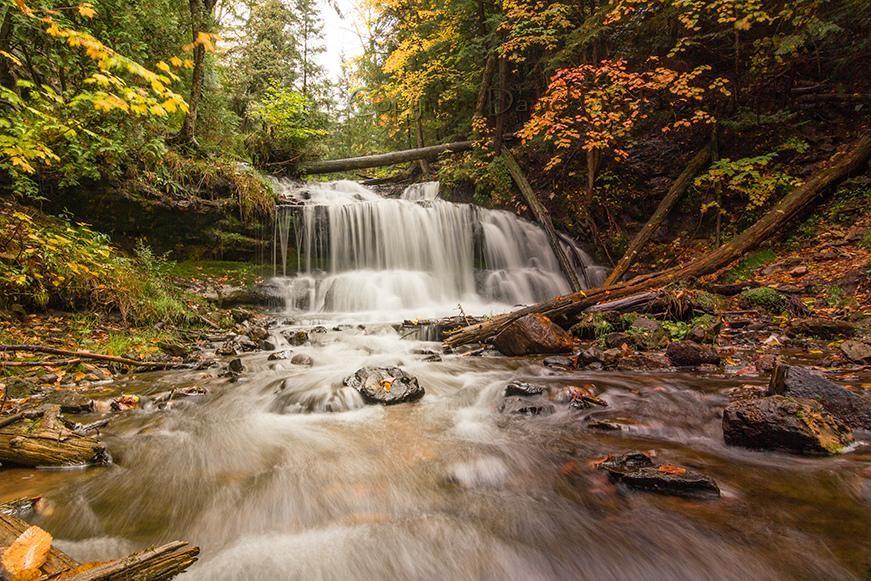 Daniel Frei // Flickr Commons
#19. Munising, MI
Est. Population: 2,970
North in the state of Michigan's Upper Peninsula, Munising holds a spectacular palette of fall colors, thanks to its diverse crop of trees living in its hardwood forests. Sugar and red maples, red oak, birch, tamarack, and larch turn beet red and golden during late September and early October.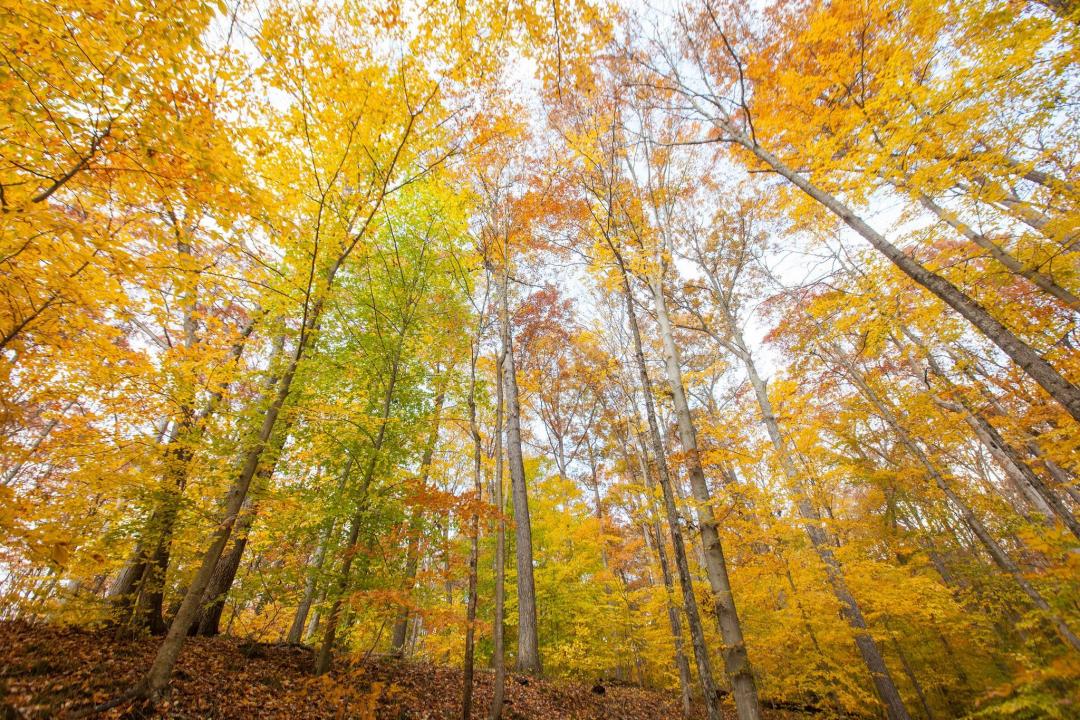 Photographer // Flickr Commons
#18. Nashville, IN
Est. Population: 1,255
Explore Brown County State Park to witness the technicolor hues that the local oak, dogwood sugar maple, sassafras, and poplar trees have to offer. Better yet, you can participate in activities in the park, such as Fall Colors Hike and Fall Wreath Making.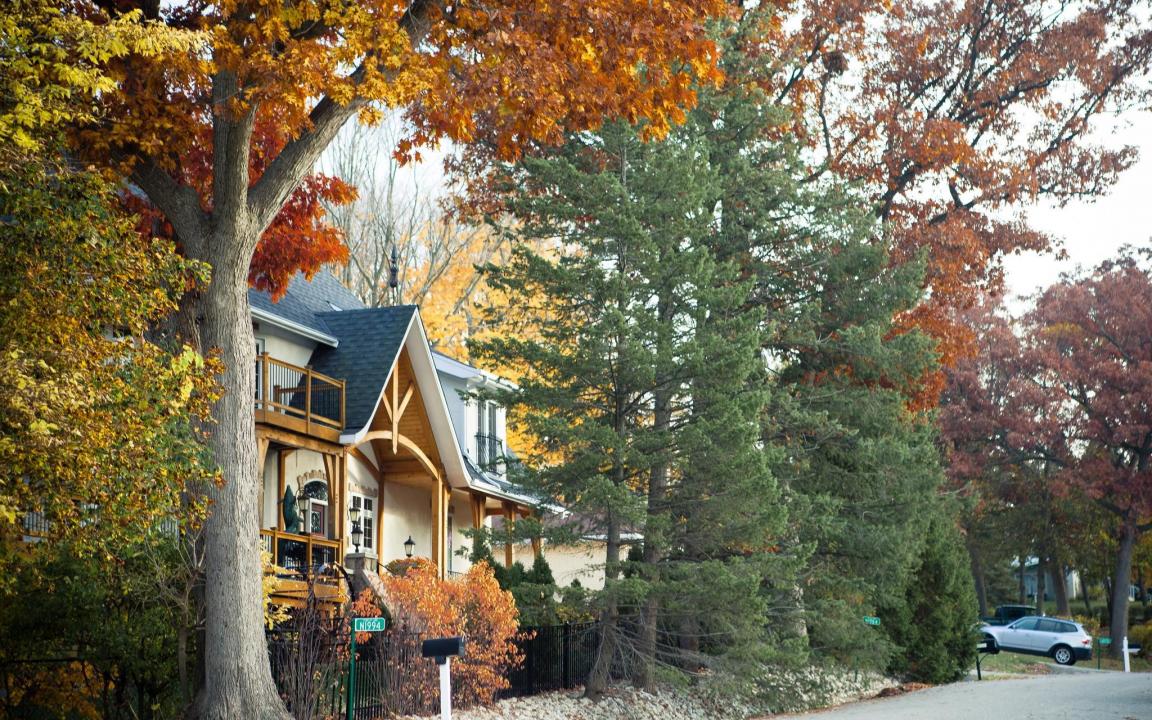 Oscar Shen // Flickr Commons
#17. Lake Geneva, WI
Est. Population: 7,651
Wrapped by a 23-mile walking path, Lake Geneva is host to a sprawl of beautiful waterside homes and resorts decorated by trees that turn late into the season. Enjoy additional views of this quiet town during a cruise on the lake or while driving down the short but sweet Snake Road.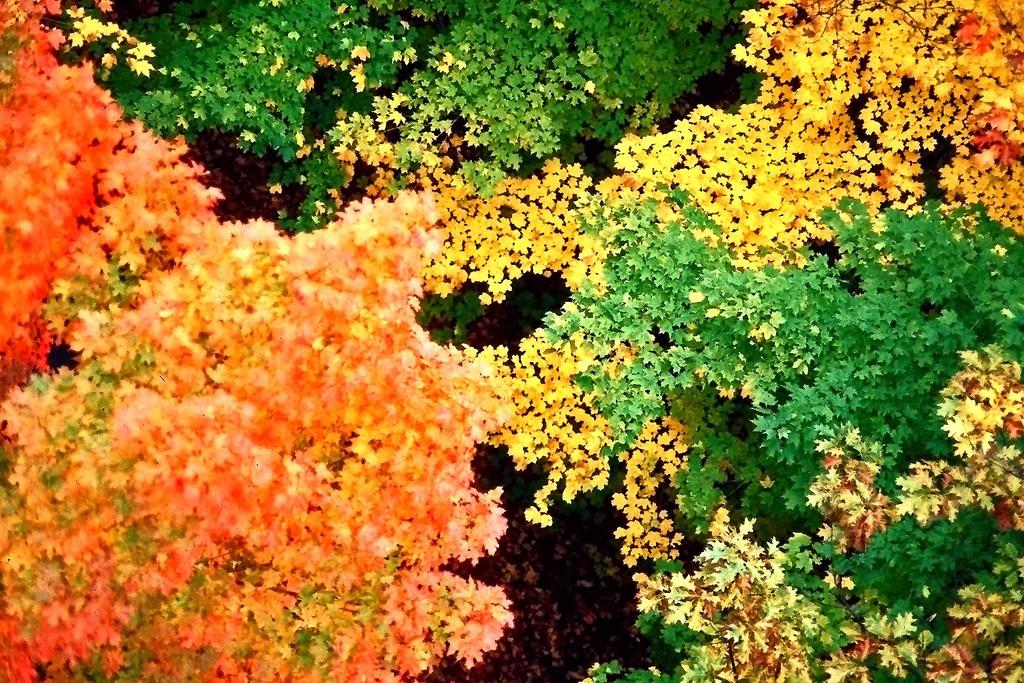 jimflix! // Flickr Commons
#16. Fish Creek (Gibraltar), WI
Est. Population: 1,068 (town of Gibraltar)
Fish Creek's prime location along Lake Michigan makes it a must-see in Wisconsin, with beautiful lighthouses like Eagle Bluff Lighthouse adding charm to this small town. Neighboring Peninsula State Park's trees — white ash, cedar, red pine — come alive in the autumn as well.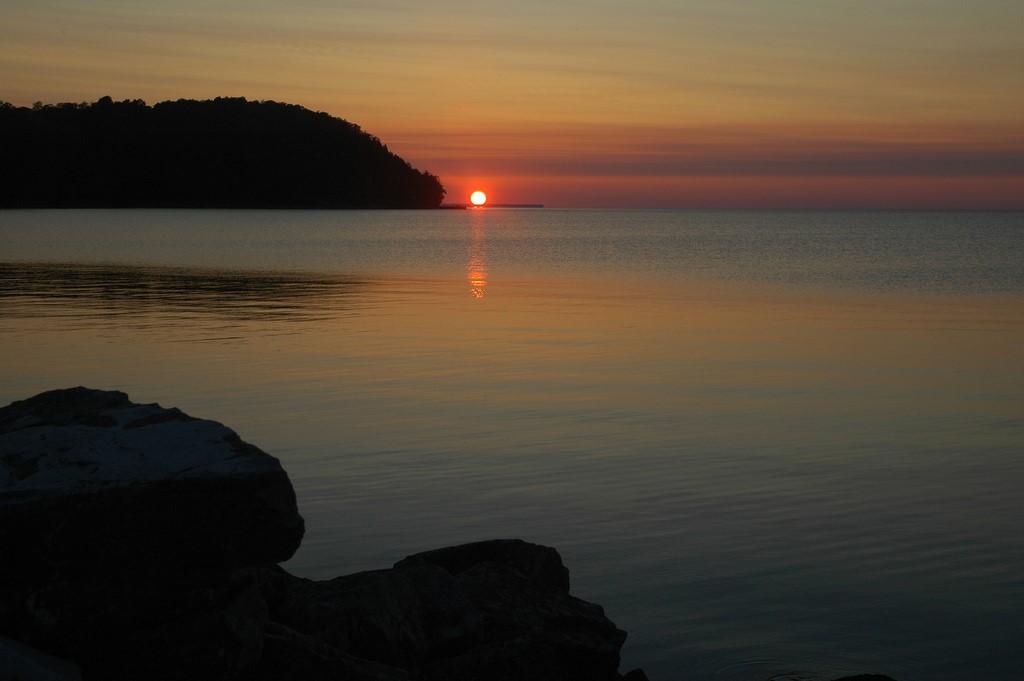 Stacy // Flickr Commons
#15. Sister Bay, WI
Est. Population: 876
Another great stop in Wisconsin's Door County, Sister Bay is a haven for fall activities like drinking cider and enjoying music and harvest fests. Because of its access to Lake Michigan, visitors can enjoy seeing the lush area by boat. Leaf-peepers should also weave through Door County Coastal Byway on Route 42.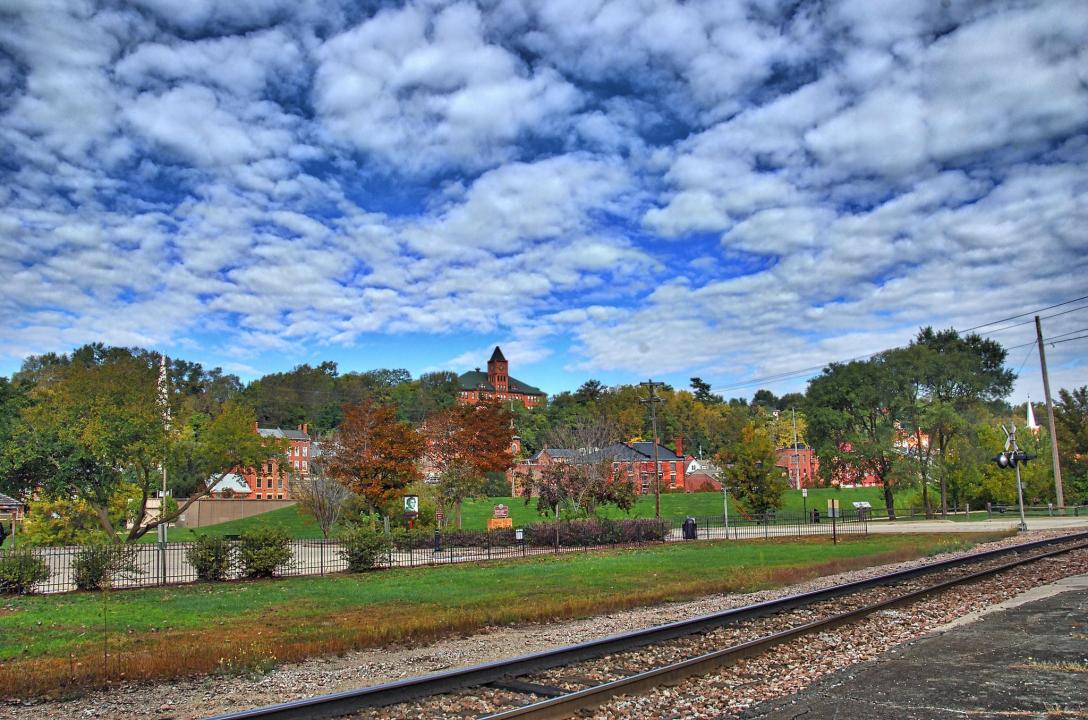 Ron Cogswell // Flickr Commons
#14. Galena, Il
Est. Population: 3,345
The incredible changing leaves in Galena are best enjoyed hiking on a trail in Apple River Canyon State Park or kayaking near the Galena River Trail. Not only are the trees a patchwork of color, but the area also boasts some top-tier birdwatching.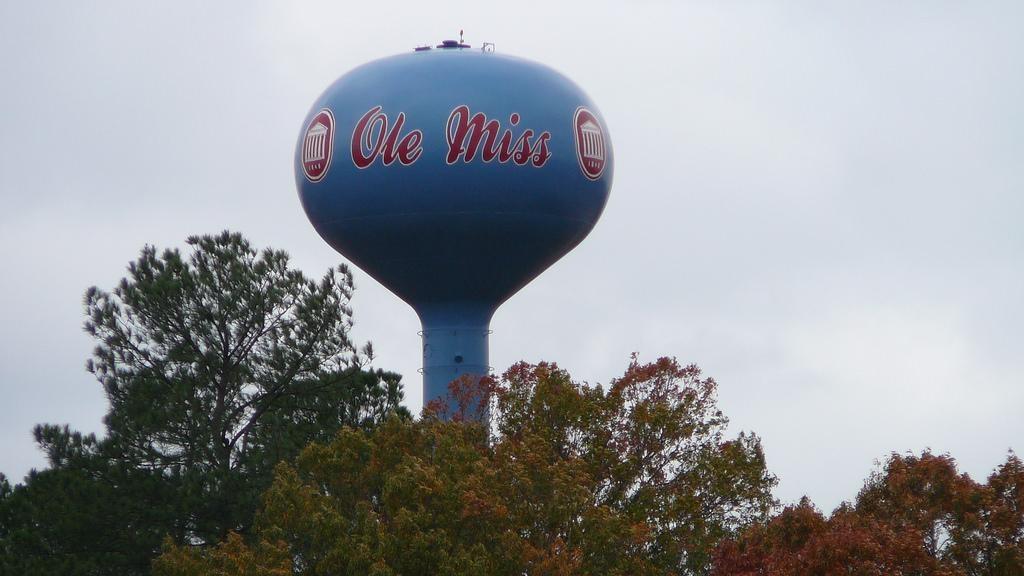 wcm1111 // Flickr Commons
#13. Oxford, MS
Est. Population: 20,769
For those worried they'll miss the famous colors of October, Oxford later in the season (even as early as December) is a great time to visit. Known as writer William Faulkner's adopted home town, the Bailey Woods Trail, which lies inside the forest that inspired the writer, offers wonderful views of the changing leaves.
Lam Thuy Vo // Flickr Commons
#12. Whitefish, MT
Est. Population: 6,692
Whitefish has the best of both worlds: golden, shimmering fall foliage (maples and larch trees, especially) in the neighboring Flathead Valley and Glacier National Park, as well as wonderful vistas that you can enjoy from a kayak in Whitefish Lake.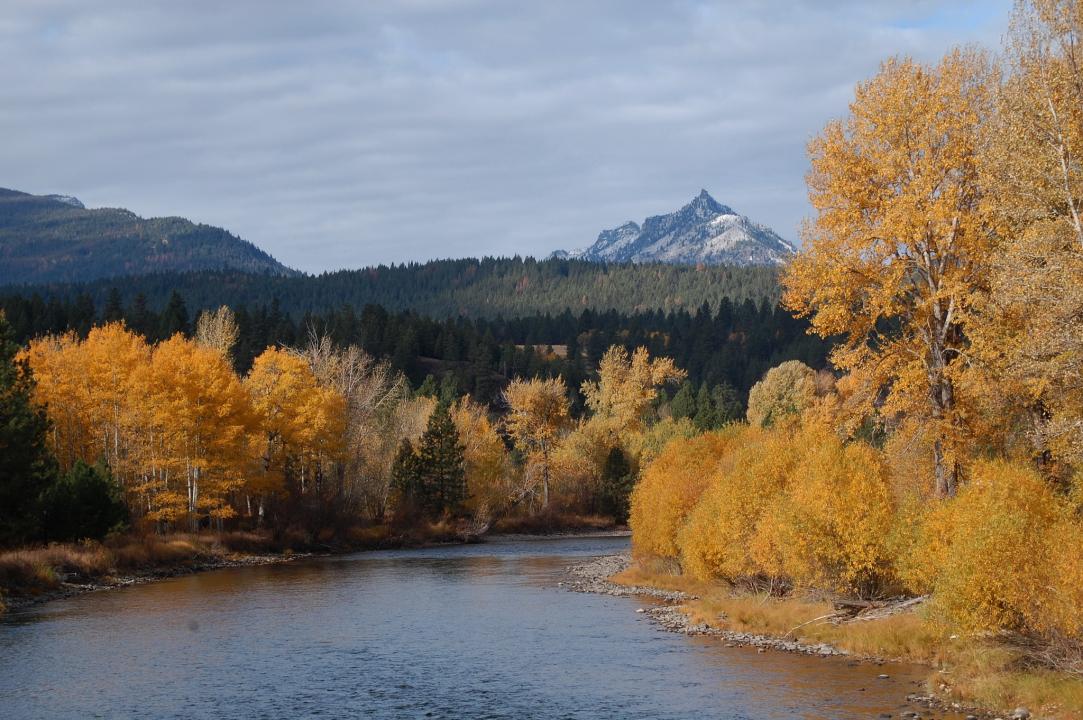 Forest Service Northern Region // Flickr Commons
#11. Darby, MT
Est. Population: 673
The little community of Darby sits in Montana's Bitterroot Valley, surrounded on one side by the Sapphire Mountains and on the other by the Bitterroot Mountains. The fall delights visitors every year, as they can see the already beautiful area dipped in sunset-like colors.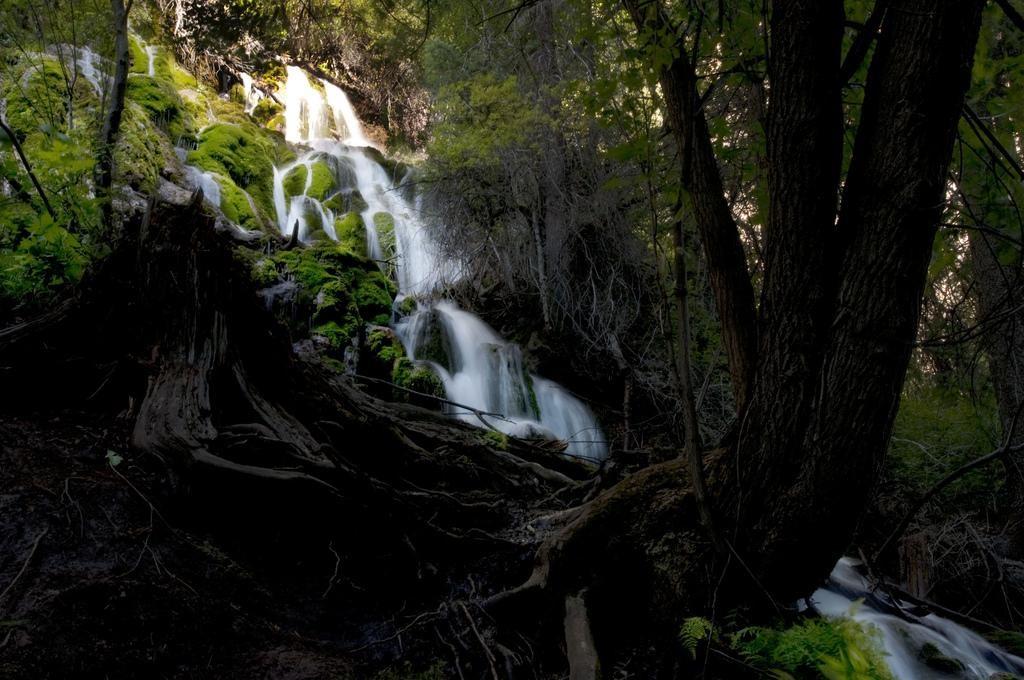 PROGaren M. // Flickr Commons
#10. Glenwood Springs, CO
Est. Population: 9,614
The meeting point of the Colorado and Roaring Fork rivers, Glenwood Springs' changing yellow-gold aspens can be enjoyed as early as September. Enjoy the view from a 14,000-foot vista over Independence Pass, or bike along the Rio Grande Trail to Aspen.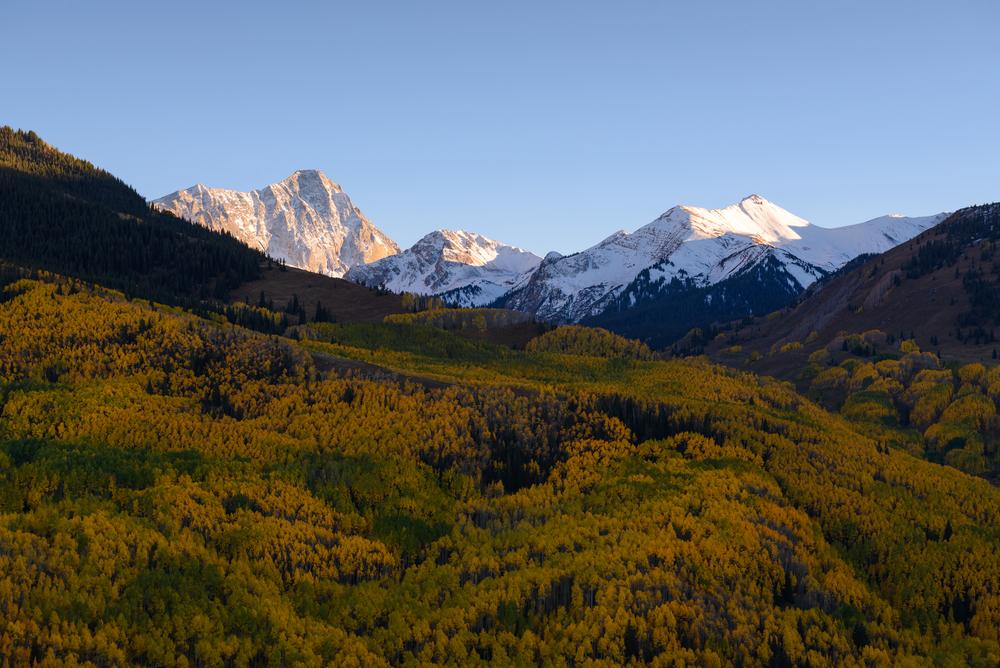 Wisanu Boonrawd // Shutterstock
#9. Snowmass Village, CO
Est. Population: 2,865
Although rather brief, the fall season in Snowmass Village is worth seeing, especially because of the shimmering golden aspens that the area (and nearby Aspen) is known for. A great way to explore the area is by bike, either along Crater Lake Trail or Smuggler Loop at Hunter Creek.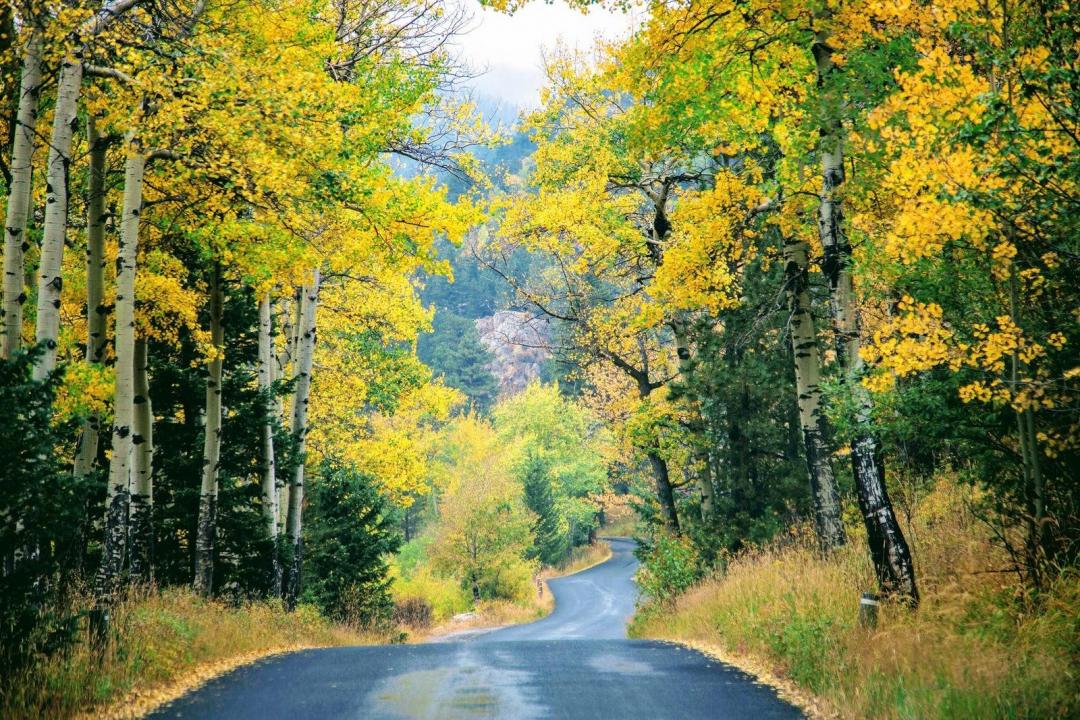 5D*Guy // Flickr Commons
#8. Estes Park, CO
Est. Population: 6,103
Considered the "gateway" to the Rocky Mountains, the town offers a spectacular view of the area's famous golden-hued aspens. What really sets this area apart in fall, however, is its wildlife. The loud mating calls of bull elk that are a staple in Estes Park are celebrated at the annual Elk Fest.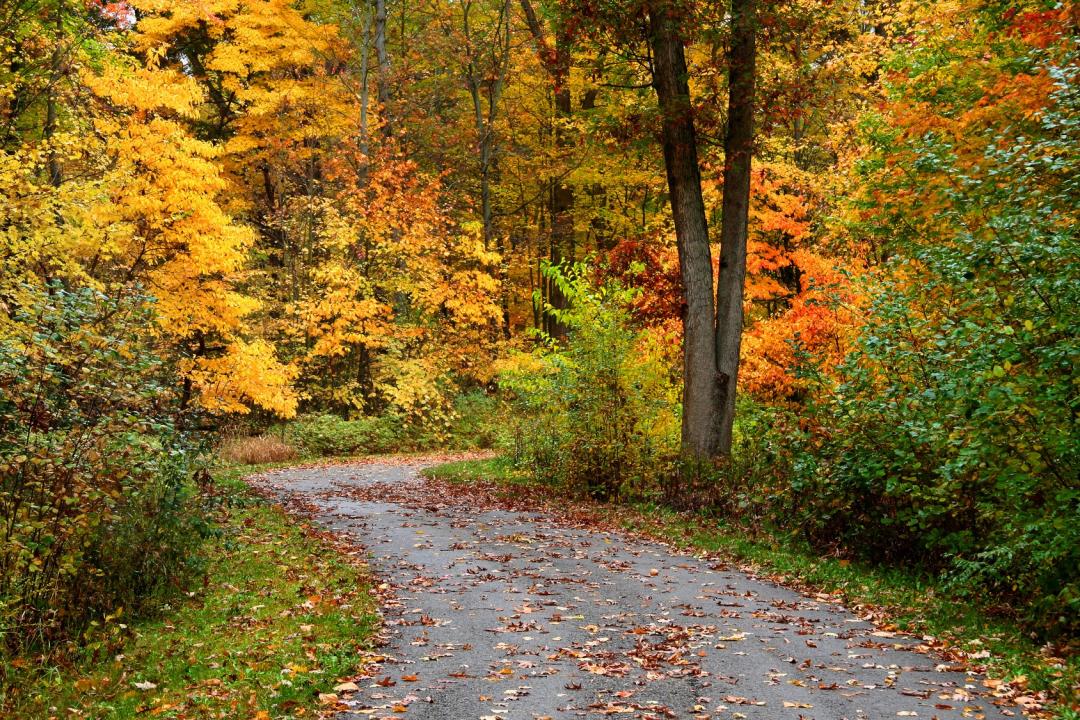 Breckenridge Colorado Luxury Real Estate Information
#7. Breckenridge, CO
Est. Population: 4,682
Known in the winter as a top-notch ski resort, Breckenridge in the fall is almost equally as breathtaking. A mix of rustic and classic architecture are complemented by Colorado's signature golden aspens, and those who want to explore more of the surrounding area can do so via the Peaks Trail and Boreas Pass Road.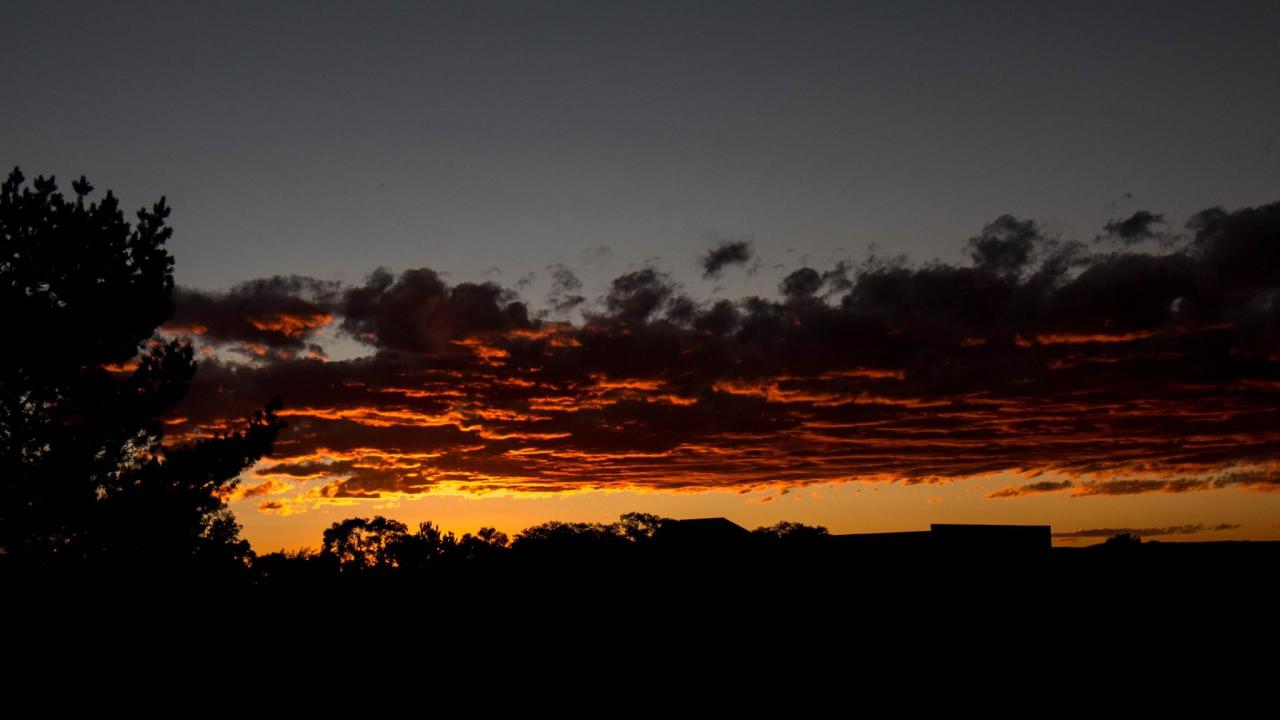 Robert Dees/ Flickr Commons
#6. Taos, NM
Est. Population: 5,716
If you have the energy to hike up Wheeler Peak, the tallest point in New Mexico at 13,161 feet, you'll get the best view of the sunset-colored landscape that New Mexico is famous for. Taos, beyond being an art-loving, quaint town, boasts access to the Enchanted Circle Scenic Byway, an 83-mile loop that winds through forests and valleys bursting with lovely pine trees, aspens and red cottonwoods.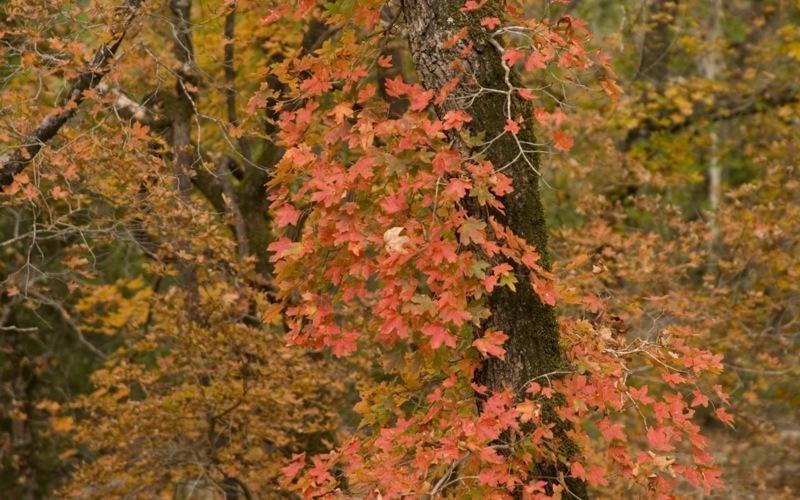 John Curry // Flickr Commons
#5. Fredericksburg, TX
Est. Population: 10,826
The warm colors of Fredericksburg are only heightened in the fall. The town in Texas Hill Country offers an annual Oktoberfest and a food and wine fest every year, as well as the option to head down to the Lost Maples State Natural Area to enjoy a spectrum of breathtaking maple leaves.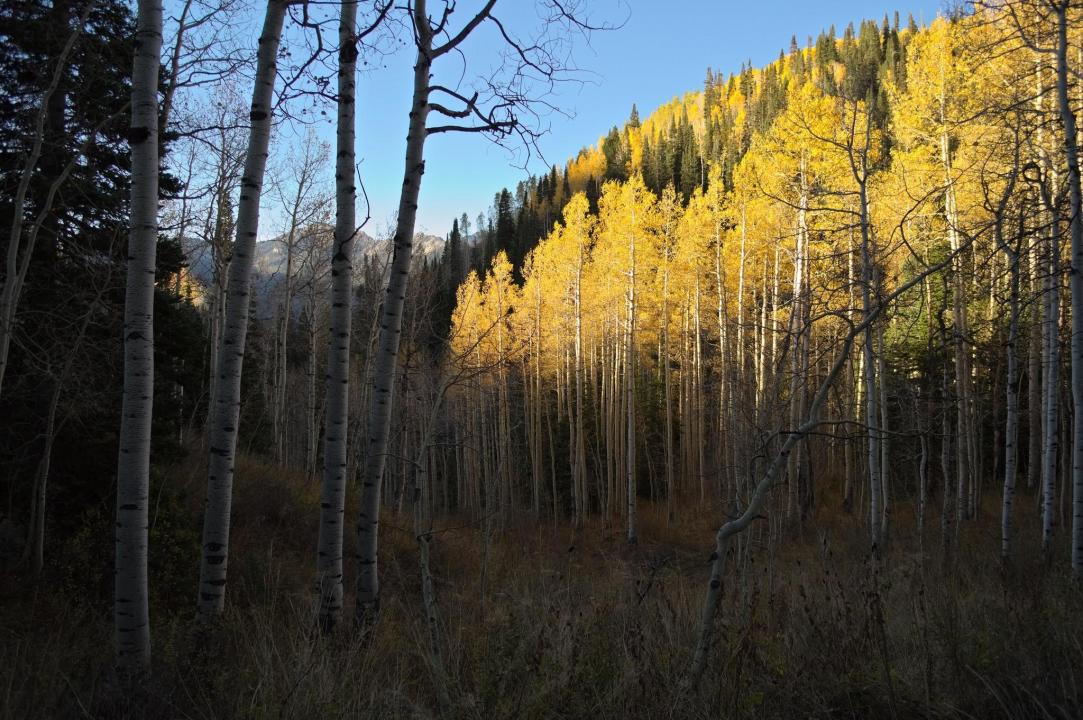 Brandon Rasmussen // Flickr
#4. Park City, UT
Est. Population: 7,963
Park City's reputation in the summer and winter precedes it, but it would be a shame to miss the city's beautiful foliage and fun events during autumn. The Autumn Aloft Hot Air Balloon Festival in September is an especially unique opportunity to see the breathtaking vistas from a bird's-eye view, or just to see the painted sky fill with pops of funky balloons. The area can be admired by bike and on foot, thanks to trails like the Round Valley Trail System that beckon adventurous visitors.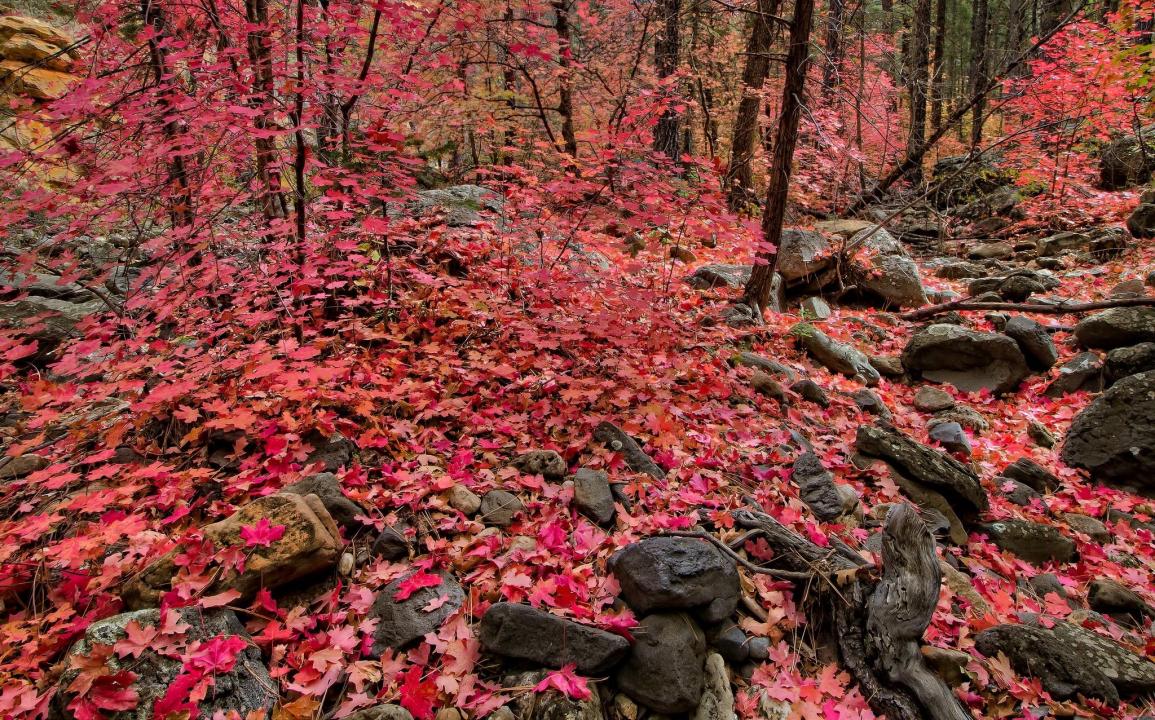 Michael Wilson // Flickr
#3. Sedona, AZ
Est. Population: 10,031
Just because Arizona is known for its deserts does not mean that it doesn't have anything to offer come autumn. The yellows that are associated with fall in the West are few and far between in Sedona — the oak and maple trees offer a crimson scene that would move even the most skeptical of visitors. Hikes and scenic drives are options for exploring this area, especially Oak Creek Canyon and Verde Canyon.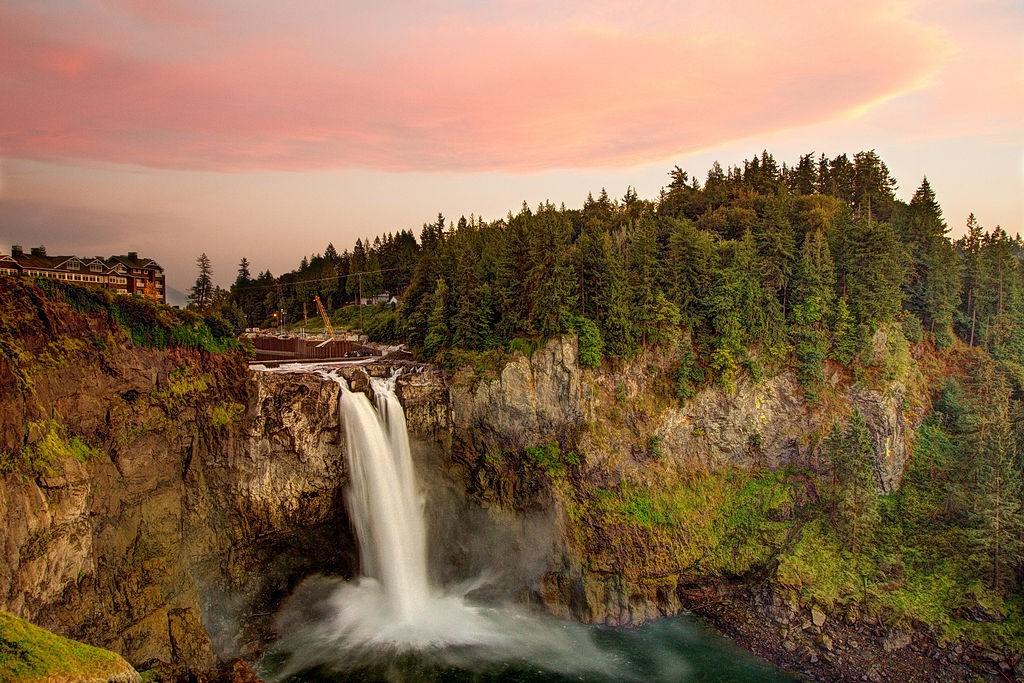 Sean O'Neill // Flickr
#2. Snoqualmie, WA
Est. Population: 12,115
Snoqualmie offers a quaint downtown area for falling shopping and easy accessing to the majestic Snoqualmie Falls, popularized in David Lynch's "Twin Peaks." Be sure to visit the Northwest Railway Museum featuring exhibits, locomotives, and the Historic Snoqualmie Depot.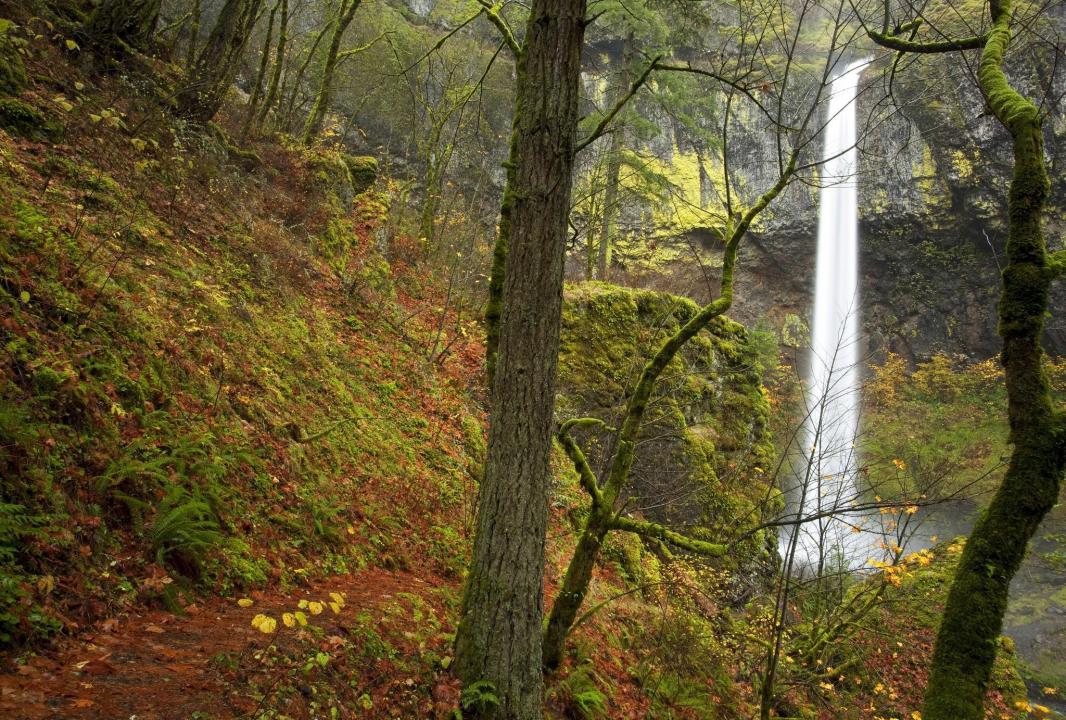 Ian Sane // Flickr
#1. Hood River, OR
Est. Population: 7,412
Though Hood River, tucked in the lush Columbia River Gorge, is a sight to behold year-round, October in the cozy town is especially known for its spectrum of bright colors. Hood Valley also is proud of its fruitful trees, which you can celebrate while picking apples and peaches on the 35-mile Fruit Loop or during the Hood River Valley Harvest Fest.
More Articles From the Our Woven Journey Network:
This article was produced by Stacker and syndicated by Our Woven Journey.